WILLIAM M. ALLEN. One of the ante-bellum families of Lavaca County, whose members have been identified with the agricultural growth and development of this prosperous part of the Lone Star State for many years, is that bearing the name of Allen, a worthy representative of which is found in the person of William M. Allen. He has been a resident of this community throughout his life, and his operations have been so well and industriously directed that at this time he is the owner of 137 acres of good land, located in the Breedlove League. Mr. Allen was born September 21, 1861, on the Navadad River, Lavaca County, Texas, and is a son of John L. and Eliza (Woolsey) Allen.
John Laird Allen, the grandfather of William M. Allen, was a native of Virginia and as a young man went to Georgia, locating in the vicinity of Macon, where he passed the remaining years of his life as a slave-holding planter. He married Nellie McMurry, who survived him some years, came to Lavaca County, where she died, and was buried on the Navadad. Their children were: J. Milton, who was studying for the ministry at college when he entered the Florida Indian war and was killed June 9,1836; Alexander; John L.; Matthew; Jane, who married William Ross, and Nancy, who died in Texas, as did her husband, Wiley Wadsworth.
John L. Allen, father of William M. Allen, was born in Monroe County, Georgia, in 1822, and there received a fair education and learned the trade of blacksmith. On coming to Lavaca County, Texas, in January, 1858, he located on Navadad Creek, five miles below Oakland, where he secured land and engaged in farming and following his trade. During the war between the states he was assigned to duty as a blacksmith by the Confederate authorities. He was a democrat, but took no active part in politics, was a Master Mason, and belonged to the Methodist Church, in the faith of which he died. Mr. Allen married Eliza Woolsey, a daughter of Capt. John M. Woolsey, who was a native of Virginia and served as an officer in the Revolutionary war, following which he removed to Monroe County, Georgia, and there passed the remaining years of his life. Captain Woolsey married for his first wife Nancy P. Smith, who died without issue. His second wife was Ruth Hill, and they had four children: Nancy F.; William W., who died, unmarried, in Lavaca County; Abner W., who was assassinated near Eagle Lake, Texas, and left a family; and Polly, who married a Mr. Goode and died near Eagle Lake, leaving children. Mr. Woolsey's third wife was Phebe Castleberry, and they had six children, namely: John M., who died at Sweet Home, Texas; Edmond R., who died near Eagle Lake; Blanche, who married William Austin, and died in Lavaca County; Eliza, born January 5, 1829; Julia, who married Mr. Green and died in Georgia; and Martha, who married Matthew Allen, came out to Texas before the war, and died, as did her husband, in Colorado County.
To John L. and Eliza (Woolsey) Allen there were born children as follows: Cornelius M., who passed away at Shimek in May, 1888, leaving a.family; Martha, who married Henry Long, and died in Lavaca County; Mrs. Camilla Myers, of Sublime, Texas, wife of Henry Bingaman Myers, a farmer of the Breedlove League; J. Monroe, of Wilson County, Texas; Nettie, who married B. F. Johnson, and died in Atascosa County, Texas, leaving a family; Robert Bruce, a farmer near Campbellton, Texas; Jennie, who died as Mrs. "W. T. Eason, near Shimek; William M., of this review; John L., Jr., who died at Shimek, unmarried; and T. J. and Robert L., twins, of Yoakum and Pearsall, Texas, respectively. J. Monroe Allen, of the above family, married Kate Rhodes, and they became the parents of these children: John Lovic; Emma May and Annie, who both died young; James Walker; Lizzie Pearl, the wife of John Most; Cornelius H.; Alva Lee; and Myrtle, the wife of George Fauver.
William M. Allen received his education in the country schools of Lavaca County, and here he has passed his life as a farmer. His excellent property of 137 acres, on the Breedlove League, is devoted to cotton, corn, and cattle, in each of which lines he has met with well-merited success, and he has also been engaged in syrup-making for many years, being at present the owner of a mill for the grinding of cane, which he operates on his farm. He is a business man of integrity and fidelity to engagements and his commercial standing is accordingly high. Politically a democrat, Mr. Allen cast his first presidential vote for Grover Cleveland, and since that time has taken a keen interest in the success of his party, although his only public office has been that of member of the school board. He is a Methodist and is a trustee and steward of the County Line Church of that denomination.
On December 5, 1888, Mr. Allen was united in marriage with Miss Georgie Campbell, a daughter of Harper and Ann (Byrd) Campbell. Mr. Campbell came to Texas from Brookhaven, Mississippi, in 1855 and settled in Lavaca County, but died near Flatonia, Texas. Mrs. Campbell survived until the advanced age of ninety-five years, dying at Corpus Christi, August 12, 1915. She was born in 1821. The children were twelve in number, but only six came to mature life, as follows: John, a resident of Mart, Texas; Mrs. Ellen Allen, of Kingsville, Texas; William, whose home is at Italy, Texas; Alice, who married Jack Brown and lives at Flatonia, Texas; Maggie, who is the wife of Doctor Honn, of Polk County, Texas; and Mrs. Allen, of this review, who was born December 6, 1865. Mr. and Mrs. Allen have had the following children: Robert H., of Corpus Christi, Texas; John L., a prominent farmer of Colorado County; and William Earl, Camilla, Lois, Nettie, Ann Eliza and Charley Bruce, who live at home with their parents.—pp. 1814-1815.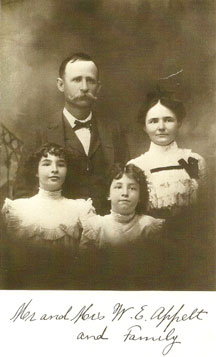 W. EMIL APPELT. For a half century or more the Appelt family has merited a well deserved reputation in Lavaca and adjoining counties as business men of exceptional acumen, solid and prosperous members of the community, energizers of local industry, and capable citizens and kind neighbors. The name bespeaks a large family relationship, and there are many of the name who might well receive attention. W. Emil Appelt of Hallettsville is a prominent business man and rancher, and represents the third generation of the family since it left Germany.
W. Emil Appelt was born at the county seat of Lavaca County November 14, 1867. He is a son of the late William Appelt, a prominent factor in local affairs who died at Hallettsville in May, 1905. It was the grandfather, Frank Appelt, who brought his family to Texas in 1852, and after a brief stay in Fayette County located at Hallettsville. Frank Appelt improved what is known as the Appelt farm, which is now the property of his son Louis, and was a hard worker and won a commendable degree of prosperity and influence. Frank Appelt came from his native town of New Stadtel, Germany, and after a successful business career in America returned to his native land in old age. He had accumulated his property as a farmer and stock man, and during the later years of his residence at Hallettsville was in the retail liquor business. Though a republican, he filled no public office, and was a member of the Catholic Church. Without special education or training, he nevertheless possessed a remarkable business sense, and he seemed to find it an easy matter to make money. He had to come to America with barely enough money to keep his family until he was able to make his industry productive, and after getting stated was twice burned out, and lost practically all his accumulation. When he retired from business he was the owner of extensive lands around Hallettsville and in Lavaca County, and at the time of his returning to Germany was one of the largest taxpayers in the county. Frank Appelt married Miss Antonio Appelt, of the same name but not related, and she died in Hallettsville March 10, 1913, at the venerable age of ninety-four. Their children were: William, Antonie, who spent his life in Lavaca County as a merchant and farmer and left a family there; August, likewise a farmer and contributing to the family reputation for successful efforts; Louis, who lives in Hallettsville, as does his twin sister, Mrs. Annie Kuntz; and Joseph, who spent his life partly as a farmer and partly in the retail liquor business, and left a family at Hallettsville at his death.
The late William Appelt came to Texas in 1852 with his father, and his limited education came largely through his individual efforts. When a young man of twenty-two he took up merchandising in Hallettsville, and for about twenty-five or thirty years was in business under his own name, and was succeeded by his brother, Antone. William Appelt spent about six years on his farm, which he had carried on while an active merchant, and then returned to mercantile lines at his old stand in the building he had erected and which still belongs to his estate. After a few years he was succeeded by his sons, W. E. and J. H. Appelt, and his son-in-law, W. J. Miller. During the war William Appelt, while not a Confederate soldier, did some service by hauling cotton to Mexico, which was then the only open market for that class of merchandise. He also continued as a merchant, and in the aggregate his business success outranked that of his father. He owned a large body of land in Jackson county, used for pasturage, and kept it stocked and was one of the leading cattle men on the coast country. He bred much improved stock, and had his ranch stocked with the Hereford and the Red Poll cattle. It has been said that his life was one continuous span of hustle, and in that characteristic he was perhaps the most conspicuous man in Lavaca County. He did not give up business even in his last hours, and his last act was to pen a letter to his son Emil dealing in detail with business affairs. William Appelt died as the result of a surgical operation at New Orleans. As a voter he was a republican, and his sons followed in his footsteps. He was a member of the Catholic Church, and as a citizen his life was one actuated by human sympathy, and his money was many times used for the relief of distress, not for the advancement of his own interests, and found many channels of practical charity and benevolence. He donated money for the construction of the Aransas Pass Railway, and was one of the committee to secure the right of way for that road. When he died in his sixty-second year there was a tribute in a local paper, and some of its words should be quoted at this point. "He had lived in Lavaca County since a mere lad, and had by his enormous energy, native shrewdness and clear brain amassed a handsome fortune. He made a success in every venture, merchant, cattleman and farmer. He never knew what it was to be tired, for a constitution of iron backed his business career. He was a man of strong traits of character, true to his friends and fearless of his enemies. In his death Lavaca County loses a staunch citizen and a good man."
William Appelt was married in Lavaca County by Rev. C. Eugene Stephen February 25, 1867, to Miss Amelia Pagel. Her father, Gustav [Gottfried] Pagel, was another pioneer of Lavaca County, having come to Texas not long after the Appelt family. He was identified with the county as a farmer, was a successful man, and had his home in what is known as the Pagel settlement. [Gottfried] Pagel was twice married and all his children were by his first wife, namely: William of Fayette county; Charley of Lavaca County; one of the most successful farmers of that section; Fritz, who during his rather short life placed his name among the successful agriculturists of Lavaca County; Ernst, who for a number of years has been a farmer at Tivola [Tivoli]; Julius, a well to do rancher in Jackson County; the oldest daughter, Mrs. Fischer of Austin [Colorado] County; Fredrica, wife of Fritz Ludwig [Ladewig] of Breslau, Texas; and Mrs. Appelt, who was the fifth child and who died in 1913. William Appelt and wife had the following children: Emil: Antonio [Antonia], wife of Steve Alblinger of Hallettsville; Julius H. of Hallettsville; Lena, who married C. J. Elstner of Lavaca County; Bertha, who married W. J. Miller of Hallettsville; Oscar, of Sutton county; Frank, of Ector County; Augusta, wife of Robert Ragsdale of Hallettsville; and William, of Hallettsville.
W. Emil Appelt, the oldest of his father's children, grew up in Hallettsville and acquired his early education in the public schools. As soon as he had reached the age of economic usefulness, he divided his time between his father's store and the ranch, and for a short time was associated with his brother and brother-in-law in the merchandise business. But his chief career and his forte as a business man has been in the cattle business. He became identified with the Jackson County ranch, but later sold his interests there and moved his stock and ranch headquarters to Ector County, in West Texas, where he and his brother Frank own and lease 30,000 acres. All of it is under fence, stocked with cattle and horses, and the Herfords are the prevailing cattle they handle. Their business is ranching pure and simple, and after the stock is grown they sell to the feeders from Kansas, Oklahoma and other northern states. In Lavaca County Mr. Appelt has interests as a farmer, and though absent in West Texas during the spring, summer and fall months on his ranch, still maintains his home in Hallettsville.
Like others of the family, Mr. Appelt has taken no active part in politics, and as a voter has cast his ballot usually with the republican party. About ten years ago he took the Master degree in Masonry at the Hallettsville Lodge, and that is his only fraternity.
In Lavaca County on December 5, 1892, Mr. Appelt married Miss Annie Speary, daughter of John Speary. Her father, who came from Switzerland, was a member of an old family in Lavaca County, was for many years identified with the saloon business at Hallettsville, and though coming to this country without means, died in independent circumstances. John Speary married Matilda Frederick. Their children were: Mrs. Appelt; Leona, wife of Herman Schultz of Lavaca County; Miss Elizabeth of Hallettsville; Mrs. Minnie Mollert of Hackberry; John, of Lavaca County; Mrs. Lena Heye of Hallettsville; Albert, of San Antonio; August, of Runge; and Miss Martha of Hallettsville. Mr. and Mrs. Appelt are the parents of two children, Elma and Lillie.—pp. 1282 - 1284.
EDWARD BOEHM. A man of strong mental powers and resolute purpose, Mr. Boehm has found in the land of his adoption ample opportunity for the exercising of his constructive ability and has achieved large and worthy success. He was a pioneer in the development and upbuilding of the thriving Town of Moulton, Lavaca County, Texas, a leader in progressive movements and influential in the furtherance of those things that contribute to the civic and material well being of the community. He came to Texas in 1872, from Moravia, a crown-land or province of the Empire of Prussia, and since that time he has been an influential figure in Lavaca and Fayette counties of the Lone Star State.
Mr. Boehm was born at Frankstadt, a town in the Carpathian Mountains in Bohemia, Prussia, and the date of his nativity was August 15, 1854. His father, Stephen Boehm, a tailor by trade and vocation, was born and reared in the same district of Bohemia and achieved such success in business as to be able to give to his children excellent educational advantages, the subject of this review having been permitted to complete a course of study in an agricultural school at Prerau, a city about thirtyfive miles distant from his native place. In this institution he continued his studies and practical work until he was sixteen years of age, when he left the school well equipped for scientific service as an agriculturist. As a youth, his mental powers, application to study and varied opportunities for the accumulation of knowledge gave to him a broader viewpoint in the matter of liberty and personal freedom of thought and action than was that of most young men in his native land, and his convictions as to the better opportunities for individual achievement under the free and equal conditions obtaining in the United States were the actuating motives that finally prompted him to sever the ties that bound him to home and Fatherland and set forth to seek his fortunes in America. Prior to his immigration to America, however, he had passed two years in Russia, at Dubna and Rovna, and as an assistant to his landlord farmer he received a compensation of 50 rubles a year. He saved 40 rubles from his annual stipend but realized that conditions for personal freedom and advancement were far more adverse than in his native laud, and his disgust with governmental restrictions and popular ignorance in Russia but heightened his desire to come to the United States. His father had previously agreed to pay his passage to America if he decided upon immigration to this land of promise and after leaving Russia he passed only a few days at his old home before taking advantage of the offer thus made by his father. Just a few months before he became old enough to necessitate his military service in his native land his father procured for him a pass through Austria and Germany, by the payment, as he firmly believes, of an appreciable sum of money, and at Bremen he embarked on the ship Frankfort, for time port of New Orleans, Louisiana. Nearly three weeks were demanded in making the voyage across the Atlantic and he was in company with a shipload of emigrants, perhaps 150 of the number being from his home province. Landing in Now Orleans, he proceeded by railway to Morgan City, Louisiana, where he embarked on a cattle vessel for Galveston, Texas. The boat was so crowded with passengers that there was no opportunity for him to lie down for rest, and his discomfort was increased by the omnipresent odor from the cattle which likewise were being transported. No shelter was provided from the rain and no provision was made for food for the passengers while en route. It may well be understood that it was with much relief that Mr. Boehm finally landed at Galveston, from which city he proceeded by railroad to Harrisburg, passing around the City of Houston and continuing his journey, by way of the Southern Pacific Railroad, to Weimar, a place then represented only by a small shack in which sardines, oysters and other canned goods, together with crackers, were displayed for sale. Such was the condition of the railroad tracks between Harrisburg and Columbus that Mr. Boehm felt more danger to personal safety in making the trip over this line than he had in crossing the Atlantic. At Weimar the company of immigrants waited without a place to sleep until they could obtain transportation overland a distance of about twenty miles to their destination. The caravan consisted of wagons and several yoke of oxen, and by this primitive means of transportation the jaded immigrants were finally transferred to their destination, at the bluffs south of Lagrange, where Mr. Boehm found the first real evidence of something good to eat from the time he had left Galveston. The pioneer settlers of his nationality knew of the coming of the new colonists and had prepared food for 150 persons, all of the comestibles being set forth on one long table, the sight of which brought joy to the hearts of the weary travelers. The first day was passed in visiting and in finding temporary places of abode until the newcomers should be able to establish homes of their own. Mr. Boehm and his companion, Engelbart Pollach, who became many years later an extensive agriculturist and also president of a bank at Caldwell, Burleson County, remained near each other during the first year of their residence in America, and their first night at the bluffs in Fayette County found them ensconced in a corncrib, where they slept on cottonseed and could look forth at the stars, the situation appealing somewhat humorously to the poetic imagination of Mr. Pollach, as indicating their initial luxuries in the land of their adoption.
Mr. Boehm found his financial resources at such low ebb that he did not have even the price of a postage stamp, by means of which he might write a letter home. Work for wages was not to be found and nine months elapsed ere he had any money in his pocket or could report progress to his parents in the Fatherland. He applied to a man named Ammons for work by which he might earn 50 cents to buy a few necessities for himself. Mr. Ammons could offer a plethora of occupation but did not himself have 50 cents to pay for work done by an employee. Finally he was persuaded to hire young Boehm and found means to pay the latter 50 cents a day for five days, this being the first money Mr. Boehm had earned in the United States.
When spring arrived Mr. Boehm found farm work about the only occupation available, and although he was virtually without any funds, he made arrangements with John Beyer to rent fifteen acres of laud and place the same under cultivation. After this provision had been made lie was confronted with the serious problem of equipping himself with a plow and ox team to do the work. His father, who was a tailor, as previously stated, had presented him with two extra pairs of trousers, and by the expedient of selling the same he was enabled to buy a eastiron plow, at Beckman's store, in the present Village of Bluff, Fayette County. He carried the implement on his back across School Prairie, a distance of five miles, to the Beyer place, and thus he made his beginning as a farmer in Texas. His friend Mr. Beyer had agreed to board him a year for the sum of $35 and further showed his kindness by he coming his security in the purchase of a yoke of oxen and a chain for his plow, besides which he made a yoke to be used for the ox team. After he had garnered and sold his first crop Mr. Boehm found his cash capital summed up in the amount of $20, his obligations to Mr. Beyer having been paid and also his indebtedness for the ox team having been liquidated.
At this stage in his career in Texas Mr. Boehm went to Flatonia, Fayette County, for the purpose of securing a position as clerk in a mercantile establishment. His first application was met so gruffly and bluntly that he was much discouraged, the old merchant simply scolding and cursing him until he left the store, but he finally applied to old Mr. Flato, who gave him employment at a compensation of $10 a month and his board. After a few months he joined his brother, who had followed him to the United States, and they initiated operations as farmers in the Moulton district of Lavaca County. This vocation did not prove satisfactory to the subject of this review and he returned to Flatonia, where he entered the employ of C. J. Lane and initiated a career which led him, within a few years, to financial independence. At Flatonia he worked for Harrison, at a compensation of $35 a month and board; at Schulenburg he was in the employ of the firm of Crane & Kessler for two years, receiving $50 a month and board, and he then reentered the employ of Mr. Harrison, who gave him a salary of $100 a month. Before the expiration of two years he was invited to take charge of the mercantile business of Mrs. Edward Knesek, at Praha, her husband having been murdered a short time previously. During the two years that he remained in this position his net earnings were $5,000. At the expiration of this period he again became a clerk for Mr. Harrison, at Flatonia, where he remained thus engaged until the railroad was constructed from [Yoakum] to the north and opened up the Moulton country. He was then induced, by Samuel Moore, to establish his residence at Moulton, and was among the first to buy lots in the town. Here he erected the first building for mercantile purposes and installed the first stock of goods, besides conducting a retail liquor business.
Mr. Boehm initiated his business career in Moulton as a general merchant and he has continued to be actively identified with this line of enterprise during the intervening years, his enterprise having been conducted on a cash basis, both in the buying and selling of merchandise, and fair dealing and effective service having enabled him to build up a large, substantial and prosperous business. Right in the locality where he went hungry as a young farmer, for the lack of bacon and flour to appease his gnawing appetite and where he found but one man to trust him with the few necessities that he required, Air. Boehm has built up a reputation for paying as he goes, has achieved independence and large measure of temporal prosperity, with the result that his career offers both lesson and incentive to the younger generation, especially along the line of his fixed and inviolable principle which is: "Pay as you go.''
It was in the year 1888 that Mr. Boehm opened his store at Moulton, his stock at that time having been valued at about $5,000. Today he carries, to meet the demands of a representative and appreciative patronage, a stock that is several times the value of that on which he initiated operations, having now a mercantile establishment and his extensive farm interests.
As a man of education and of broad and liberal views Mr. Boehm has been notably public-spirited in the furtherance of educational interests in the community in which it has been his privilege to gain such distinctive personal success. He gained his first definite impression of the American school from his observance of the workings of the old Moulton Institute, as conducted under the direction of Professor Ellis, whose widow, it may be noted, is now a popular teacher in the City of San Antonio. The institution noted was one of marked efficiency and popularity, received a good patronage and had much influence in advancing educational standards and raising the intellectual atmosphere of the community. Mr. Boehm was inspired finally to put forth a definite effort to establish a worthy successor of this excellent school, and the same is represented in the present Sam and Will Moore Institute, named in honor of two brothers who were prominent and influential figures in the pioneer history of this section of the state. These brothers contributed $4,000 to effect the establishing of the institute, the total amount raised for the purpose being $10,000 and Mr. Boehm having personally made large contributions both of money and time to further the success of the laudable enterprise. The school has been maintained at a high standard of efficiency, is recognized as one of the best in this section and draws its support from a wide area of country, the while its advantages have been utilized by many persons, now prominent and influential in civic and material activities in this part of the state. Mr. Boehm has insistently maintained the policy that the school shall be kept free from church domination and that male teachers shall be employed, as conserving this end, his idea being that the institution shall be free from any controlling influence that may be repugnant to any class of citizens, that its aim shall be purely educational and that its appeal shall be general, without reference to grade or station in the life of the pupils and supporters. He has served as a trustee of this institution, in which his children have received their training. He has encountered divers hardships and reverses within the period of his residence in Texas but has pressed steadily forward, with all of courage and ambition, the result being his attainment of the prosperity and the high personal standing that should ever reward such determined and worthy effort. He is essentially progressive and public-spirited as a citizen, supports the democratic party in a generic way, but, with characteristic independence, is not so dominated by partisanship that he will not utilize his franchise in furtherance of measures and the support of candidates meeting the approval of his judgment, whether or not they be representative of the party with which he is affiliated. He has erected several houses in Moulton, including his own residence, which is one of the most attractive in the town. This hospitable domicile is a two-story frame house with spacious rooms, and its attractions are enhanced by its fine grounds, with their fine evergreens and other shade trees, shrubbery, walks and other pleasing effects in landscape, gardening. Mr. Boehm has two brothers in Texas and both are married and have children. Rudolph being a resident of Ennis and Richard of Port Lavaca.
At Bluff, Fayette County, on the 1st of March, 1882, Mr. Boehm wedded Miss Mary Adamcik, who was born in that county, of Bohemian parents, and of the four children of this union it is to be recorded that Vladimir and Edward are both associated with their father in the conducting of the latter's mercantile establishment and business; Mary is the wife of Benno Hoppe, of Smithville, Bastrop County; and Adella is the wife of Adolph [this should be Elo] Fehrenkamp, of Moulton.—pp. 2375-2378
EMIL G. BUSKE. One of the vigorous and representative business men of the Town of Shiner, an important trading and industrial center in Lavaca County, Mr. Buske is here the proprietor and operator of a well equipped cotton gin of the approved and modern type, and he also has other important capitalistic interests in this section of the state.
Mr. Buske is a native of Lavaca County, his birth having occurred on the homestead farm of his father, near Content, on the 19th of August, 1875. His father, William Buske, has been a resident of Texas since he was about thirteen years of age, he having accompanied his parents on their emigration from Germany and the family home having been established in the fine old German colony known as Kinkler, Lavaca County, where the father and mother passed the residue of their lives and where their home farm was well improved ere their death, their remains being laid to rest in the little cemetery at Kinkler, where they settled about the close of the civil war. Of their children the eldest was Charles, who died at Weimar, Colorado County; Henry was a resident of the City of Houston at the time of his death and is survived by a number of his children; Gottlieb is a resident of Weimar; Emilie became the wife of August Wustenbard and is now deceased; Minnie is the wife of Ferdinand Treptow and they reside near old Kinkler; and Mrs. Annie Schuetts is deceased.
William Buske, father of him whose name initiates this article, was reared to manhood in Lavaca County and here he has continued his active and successful association with agricultural pursuits throughout his mature life. As a young man he wedded Miss Christina Oswald, and she was yet a comparatively young woman at the time of her death. Concerning the children the following brief record in consistently [sic.] entered at this juncture: Henry is a farmer in the vicinity of old Kinkler, and after the death of his first wife, whose maiden name was Paulina Frehner, he married Mrs. Mary Schroeder, his present companion and helpmeet; Emil G., of this sketch, was the next in order of birth; Minnie is the wife of Louis Klaer, and Anna is the wife of Emil Treptow, both families being residents of Lavaca county. After the death of his first wife, William Buske married Mrs. Anna Schroeder, and their children are: Benjamin, Alfred, Martha, Louisa and Ella, the last mentioned remaining at the parental home. Martha is the wife of Richard Mertz, of Lavaca County, and Louisa is the wife of Henry Renger, of Shiner.
Emil G. Buske is indebted to the schools at old Kinkler for his early educational discipline, and he continued to be associated in the work and management of his father's farm until he had attained to his legal majority, after which he was for three years engaged in farming in an independent way. His next venture was made when he entered the cotton gin business at Witting, in partnership with Edward Fertsch and under the firm name of Fertsch & Buske. After three years Mr. Buske purchased his partner's interest, and about two years later he sold the plant and business at Witting and removed to Shiner, where he purchased the gin of William Hillmann. When he assumed control of this plant its equipment consisted of four stands, of the Murray patent, and he has since remodeled and enlarged the ginning establishment, which now has nine stands, of the Munger and Murray gins, the output capacity of the plant being eighty bales of cotton a day.
In addition to his control of the above mentioned and signally prosperous business enterprise, Mr. Buske is the owner of two well improved farms in the William Hill League, of Gonzales, the respective areas of the two farms being 177 and 196 acres. He has effected the reclamation of a considerable part of each of these farms, which are being brought under effective cultivation. In Lavaca County he owns an excellent farm near the old village of Kinkler, and this place is improved with good buildings, a windmill and other modern appurtenances. On one of his farms in Gonzales County Mr. Buske has erected tenant houses. He is a stockholder in the Shiner Brewing Association and also in the Johnson Oil Company, controlling valuable properties in the Electra field. His political allegiance is given to the democratic party, his support is extended to measures and enterprises tending to advance the general welfare of the community, and he is a public spirited citizen of Shiner, where he has maintained his residence since 1906. In a fraternal way he is affiliated with the Hermann Sohns.
On the 24th of June, 1904, Mr. Buske wedded Miss Hedwig Fertsch, a daughter of Charles and Paulina (Beneker) Fertsch, who came from Germany to Texas and settled near old Kinkler, where the father became a prosperous farmer. The children of the Fertsch family are: Edward, Charles, Oscar, Albert, Linn, Paul, Miss Antonia, Mrs. Anna Bonerden and Mrs. Buske. Of the children of Mr. And Mrs. Buske, the firstborn, Melvin, died in infancy, and the three surviving are Roxie, Veree and James.—pp. 1496-1498.
D. CICERO DANIEL.Numbered among the representative factors in connection with business activities in his native county, where his popularity is such as to make incongruous any application of the biblical aphorism that a prophet is not without honor save in his own country, David Cicero Daniel is manager of the Shiner Oil Mill & Manufacturing company, which represents of the most important industrial enterprises in the thriving Town of Shiner, Lavaca County.
Mr. Daniel was born in Lavaca County on the 29th of October, 1874, and is a son of Joseph R. and Maggie (Dew) Daniel, both natives of Yazoo County, Mississippi, in which state their respective fathers were planters and slaveholders prior to the Civil war, both families having early been founded in the South and Mrs. Daniel having been the daughter of Christian Dew, who was a prosperous planter in Mississippi at the time of his death.
Reared under the conditions and institutions of the old regime in the fair Southland, Joseph R. Daniel, who was born in the year 1846, passed the period of his childhood and early youth on the home plantation and his early educational advantages were those afforded in the field schools of the rural districts of Mississippi. He was not old enough to say that he was as a youth signally loyal to the cause of the confederacy, though circumstances prevented him from entering military service even after he reached an age that made this practicable. He was not yet twenty years old at the close of the war.
In his native commonwealth Joseph R. Daniel initiated his independent career as an agriculturist, and in 1871 he came with his young wife to Texas, the trip having been made by railroad to Columbus, this state, from which point Mr. Daniel continued his journey with team and wagon to Lavaca County. He purchased land near the present Village of Shiner, although the site of the town was at that time an unbroken prairie, and for his land he paid at the rate of $4 an acre. Through industry and good management he developed a productive farm, and here he continued his activities as an agriculturist and stock-grower until 1896, when he removed to Victoria County, where for several years he was engaged in the lumber business, in the Village of Inez. After disposing of this business he resumed operations as farmer and stock-raiser, and he remains one of the substantial citizens of prominence and influence in Victoria County. His political allegiance has ever been given unequivocally to the democratic party and though he has shown distinctive civic loyalty and public spirit he has had no desire for political preferment, his interest in the cause of education having been such, however, that he consented to serve for a number of terms in the office of school trustee. His religious faith is that of the Baptist Church, of which his wife likewise was a devoted member, her death having occurred at Inez, Victoria County, in January, 1906. Of the children the eldest is Oscar H., who is a prosperous farmer near Richmond, For Bend County; D. Cicero, of this review, is the next in order of birth; Joseph B. was a successful agriculturist in Victoria County at the time of his death and is survived by his wife, whose maiden name was Nannie Belle Koontz, and by one son, Barney; Robert T., the youngest of the sons, is a progressive ranchman in Dewitt County.
D. Cicero Daniel is indebted to the rural schools and the public schools of Shiner for his early educational discipline, and that he made good use of the advantages thus afforded him is indicated by the fact that when nineteen years of age he put his scholastic attainments to practical test and use by engaging in teaching. For two years he was thus identified with the pedagogic profession as a successful and popular teacher in the rural schools of this section of his native state.
In 1896 Mr. Daniel assumed the position of bookkeeper in the office of the Shiner cottonseed oil mill, and with the concern he has since continued in active service, his ability as an executive and as a business man of circumspection and mature judgment having led to his advancement, in 1904, to the position of manager of the business and the mill, an office of which he has since continued the valued incumbent. The plant of the Shiner Oil Mill & Manufacturing Company includes a well equipped machine shop, and this auxiliary department of the business is one of important order. Mr. Daniel is a stockholder and director of this company, the Shiner Oil Mill & Manufacturing Company and also is a director of the adjunct company operating the machine shop and garage. In the West End Addition of Shiner Mr. Daniel erected his attractive and essentially modern house, and this is one of the best residence properties in one of the finest parts of the town.
The democratic party has always enlisted the unqualified allegiance of Mr. Daniel and he is now serving his second term as a member of the board of aldermen of Shiner, in which body he held, in 1915, the chairmanship of the improvement committee that has in charge the drilling of wells and the construction of a reservoir to increase and render more healthful the municipal water supply of the village. He is past chancellor of the local lodge of the Knights of Pythias, and for a number of years was deputy grand chancellor of the grand lodge of Texas. He is affiliated also with the Praetorians, and he and his wife hold membership in the Baptist Church. It may further be stated that Mr. Daniel is a scion of a family that early became one of no little prominence and influence in Georgia, from which historic commonwealth David Daniel, grandfather of the subject of this review, removed to Mississippi, where he became a successful planter and where he passed the remainder of his life. He was too advanced in years to be eligible for service as a soldier in the Civil war. He was twice married and Joseph R., father of him whose name initiates this article, was the only child of the second marriage.
On the 4th of July, 1899, at Pearsall, Frio County, was solemnized the marriage of D. Cicero Daniel to Miss Mamie Cox, a daughter of John Frank Cox and Belle (Smith) Cox, who now maintain their home at Shiner, where Mr. Cox is a carpenter and builder by vocation; he is a native of Texas and in earlier years gave his attention principally to the cattle industry. Mrs. Daniel, who was born May 4, 1880, is the younger of the two children, and her brother, Edward P., is now a resident of Columbus, New Mexico. Mr. and Mrs. Daniel have two children—Margaret Isabel and David Franklin.—pp. 1293 - 1295.
HENRY DREYER. Coming with his parents to Texas when he was a lad of seven years, Mr. Dreyer has here maintained his home for more than seventy years and his memory forms an indissoluble link between the remote pioneer era and the latter days of opulent prosperity and progress in the Lone Star State. His life has been one of signal honor and usefulness and he stands today as one of the representative and honored citizens of Lavaca County, his place of residence being the thriving Town of Shiner.
Henry Dreyer was born in the Town of Saltzufel, Prussia, on the 24th of January, 1836, and is a son of A. H. and charlotte (Potthast) Dreyer, Mrs. Dreyer having been a widow at the time of her marriage to A. H. Dreyer and having had one son by her previous marriage—August Weller, who accompanied the family on the immigration to America and who became a prominent and influential citizen of Colorado County, Texas, where he left a family and where the Town of Wellersburg was named in his honor.
In 1842 A. H. Dreyer and his family embarked at Bremen, Germany, on the sailing vessel Francisco, and this sturdy old-time boat provided them transportation to their destination at Galveston, Texas, the voyage having been thirteen weeks in duration and the only special incident to break its monotony having been when a stop was made at a port in Cuba, to replenish the stock of fresh water. Henry Dreyer, of this review, was a lad of about seven years at the time and recalls vividly the voyage across the Atlantic, the novelty of the same having made due appeal to his boyish imagination and interest. After landing at Galveston, the family proceeded by boat to Houston, from which latter point the onward journey to Columbus, Colorado county, was made with a wagon and six yoke of oxen, young Henry having at this time gained his first impressions of frontier freighting, a line of enterprise with which he himself was destined to become identified in later years. Columbus was then a mere village, and that it was the judicial center of Colorado County was indicated by its possession of a dignified courthouse constructed of logs and with dimension about equal to an ordinary living room of the present-day dwelling in this section of the state. Mr. Mallek was at the time the only German citizen in Columbus, and he gave cordial greeting to the family from his Fatherland, A. H. Dreyer found himself in lamentable financial straits upon his arrival in America, as, prior to the sailing from Bremen, a thief had bored holes in the trunk in which the family money was placed and had succeeded in abstracting the funds on which dependence was placed for the establishing of a suitable home after arrival in America. With a few dollars from his small remaining cash capital, Mr. Dreyer purchased a small tract of land on Skull Creek and there initiated farming on a very modest scale,—raising corn and a little cotton. As this section was then overrun with wild hogs he was able to provide meat for the home larder, and the family subsisted principally on corn bread and bacon. Hogs and cattle were so cheap that it hardly paid to handle them on the farms of the locality, and cattle hides were of such little value that they were hung on fences to rot or else made into rawhide ropes.
In his native land A. H. Dreyer had been a manufacturer of tobacco, and finally he removed from his original pioneer farm in Texas to the vicinity of Oakland, in the same county, where he farmed for a time and then turned his attention to the growing and manufacturing of tobacco, being the first in that section to follow these lines of enterprise and one of the first in Colorado county to become a manufacturer of cigars. At Oakland he continued to maintain his home during the residue of his worthy and useful life, and there he died, in 1873, at the age of sixty-eight years. He was an upright, industrious and substantial citizen who made for himself a secure place in popular confidence and good will and he commanded the high regard of all who knew him in the state of his adoption. He seemed fully to appreciate American institutions and advantages, became a naturalized citizen, voted the democratic ticket and at the time of the Civil war was in full sympathy with the cause of the Confederacy, his two sons having served as Confederate soldiers. He acquired the use of the English language and was a man of superior mental force and of mature judgment. Both he and his wife were zealous and consistent communicants of the Lutheran Church, and Mrs. Dreyer passed to the life eternal within a short time after the family home had been established in Texas, her death having occurred at Columbus, in 1845. Of the three children the eldest was Amelia, who became the wife of Henry Bock and who passed the closing years of her life at Weimar, Colorado county; Henry, of this review, was the next in order of birth; and Hermann died in Wharton County, being survived by a number of children.
Henry Dreyer is thus the only surviving representative of this sterling family that came to Texas in the pioneer days, and such were the exigencies and conditions of time and place that he never attended school a day in his life, his education having been gained by self-application and in the school of practical experience. It early became incumbent upon him to assist in the support of the family, as his father had hard work to "make both ends meet." Mr. Dreyer did not learn to read until after he had gone forth as a soldier of the Confederacy. While he was absent from home and doing valiant service as a soldier, his wife would write letters to him in German, also providing him with a copy of the German alphabet, with which he had sufficient familiarity to enable him by its means to decipher the words in her letters, though each letter demanded of him about four hours to accomplish this result. He eventually learned to read a little of both German and English, and though he has never acquired any technical knowledge of mathematics his facility and accuracy in mental calculations have always been a matter of astonishment to whose who have been informed that only by this means does he handle his mathematical problems. Those well versed in theoretical knowledge cannot often excell [sic.] him in rapidity and assurance of calculations incidental to financial transactions, including the purchase and sale of stock and lands, and his ability shows the working out of the natural law of compensation.
Mr. Dreyer recalls that when the family arrived in Colorado county there was but one house between Columbus and Gonzales, this being the home of Mrs. Brocker, on Peach Creek, and about half way between Gonzales and the present town of Shiner. Mr. Dreyer's father was given several leagues of land by the Government of the Republic of Texas, but he considered the land valueless, as at that time any person could settle on any tract which he chose, without fear of molestation. One of his leagues of land the father of Mr. Dreyer traded for a clock, as he believed that the land would never be worth anything. Another of the tracts which he held was that which later became known as the Clements League, a part of which was purchased a few years ago by his son Henry, of this sketch, at a fancy price.
When about sixteen years of age Henry Dreyer considered himself fortunate in being able to enter the ranger service, as a member of Capt. Henry McCullough's company, and as a ranger his service was principally in the country around San Antonio. For a period of about two years he was on active duty as one of the famous Texas Rangers, and he participated in a number of fights with the hostile Comanche Indians. At the expiration of his service as a frontier ranger Mr. Dreyer returned home, and thereafter he was employed as driver of freighting teams and also in the driving of cattle. With these lines of enterprise he was identified in an independent or individual way at the time when the Civil war was precipitated on a divided nation, and in the meanwhile he had brought with his freighting outfit many new German families from Houston to the section of the state in which he himself resided.
In 1861, soon after the inception of the war, Mr. Dreyer enlisted in Company C, commanded by Captain Ford, and this company became a part of Colonel Bates' regiment in General Magruder's command. The regiment first went to the mouth of the Brazos River, and the command continued its service in Texas until 1863, when it was ordered into Louisiana, where many of the men in Colonel Bates' regiment were sacrificed in the battle at Mansfield, in April, 1864. The regiment was in Texas at the close of the war, but Mr. Dreyer had received his honorable discharge some time previously, after being incapacitated by an attack of typhoid fever.
After the war Mr. Dreyer resumed his operations as a farmer and cattleman, and finally he established at the old town of Wellersburg, near Oakland, Colorado County, a mill operated by steam power. Here he not only sawed logs, but also ginned cotton and ground corn, his operations along these lines continuing several years. He hauled his cornmeal to points as far distant as Beevillle, Bee County, and found a ready sale for the product among the cattle men. He finally sold his mill and removed with his family to Columbus, where he established a similar manufacturing plant and where he continued his successful business operations several years,—until a severe flood of the river ruined his plant. He sold what was left of appreciable value and then returned to Oakland, where his best efforts were little more fruitful than in permitting him to eke out a living for himself and his family. About this time he gained fame as a rail-maker, with a record for shopping 300 fence rails in a single day, and though he thus emulated the example of the noble Lincoln he has never felt that his prowess added in the least to his eligibility for the presidency of the United States. This arduous labor, his work in plowing among stumps and in doing other pioneer tasks of the hardest kind, sapped his physical energies and he wisely determined to remove to a prairie district, where such formidable odds were not to be overcome. He finally moved with his family to the rich prairie district of Lavaca County, where he purchased 1,000 acres of land, entirely unimproved, and initiated his successful enterprise as a farmer and cattle-grower. For land that is now worth $100 an acre he paid at the rate of only $5.75 an acre, and the appreciation in values, incidental to the development and general progress of the country, has alone tended to bring to him substantial financial independence. On the estate mentioned Mr. Dreyer continued his residence twenty-four years, and the land today gives full evidence of the energy, progressiveness and good judgement which he brought to bear in its reclamation and improvement. He fenced the property, erected good buildings and showed much circumspection in ordering all departments of his farm industry, with the result that large and well merited success attended his efforts. He finally divided the landed estate among his children, who still own and reside upon the property.
A number of years after coming into possession of the property above mentioned, Mr. Dreyer became associated with two other men in the purchase of nearly 7,000 acres of land on the Guadaloupe [sic.] River, and of this extensive domain he now owns individually about 1,800 acres. Upon the property he had made good improvements, including the erection of twenty-two tenant houses, and the land is well fenced, at he major part of its area being under effective cultivation. This land also has been divided among his children, and thus it will be seen that this sterling pioneer has the utmost paternal solicitude, even as his children accord him an equal filial devotion. On the estate last mentioned was formerly established the postoffice designated by the name of Dreyer, and the community is still known as Dreyer.
In 1905 Mr. Dreyer removed to the attractive village of Shiner, where he is the owner of an attractive residence property, upon which he has made numerous improvements, and here he is living virtually retired, in the enjoyment of the well earned rewards of former years of earnest toil and endeavor. He is a liberal and public-spirited citizen and has given support to enterprises that have added much to the civic and business prosperity of Shiner. He is president and chief stock-holder of the Garbade Lumber Company and is vice president of the Farmers State Bank of Shiner. While a resident of the town of Charlottenburg he served as school trustee. His political allegiance has always been give unreservedly to the democratic party, and though he is not a communicant he holds to the faith of the Lutheran Church and has been liberal in the support of religious activities. At Charlottenburg he donated to the Lutheran Church the nine ares of land upon which the church edifice and cemetery are established. Mrs. Dreyer is an earnest communicant of the Lutheran Church and her gentle and gracious personality has made her a most devoted wife and mother, besides gaining to her the affectionate regard of all who have come within the sphere of her influence.
Mr. Dreyer has shown himself not lacking in inventive genius, and among the devices invented and patented by him was an arrangement to kill the obnoxious night ants of Texas, this proving successful in operation and bringing to him appreciable financial returns. In company with Mrs. Dreyer he made a trip to California and he has stated that his primary purpose was "to kill ground squirrels." He had patented an invention to work death and destruction to these pestiferous little animals, and while his California trip was not successful from a financial standpoint, his patent was eventually sold by his agent for $20,000, though none of this money ever came into his possession.
Near Oakland, Colorado County, on the 15th of September, 1861, was solemnized the marriage of Mr. Dreyer to Miss Magdalena Anders, a daughter of Joseph Anders, who immigrated to Texas from Austria and who became a prosperous farmer and business man in Colorado County, the other surviving children of the Anders family being: Miss Verona, who resides at Oakland; Amelia, who is the widow of Charles Ling; Bertha, who is the widow of Hermann Pleckner; and Joseph, who is a resident of Flatonia, Fayette County. In the concluding paragraph is entered brief record concerning the children of Mr. and Mrs. Dreyer:
Henry is a successful farmer on the historic staked plains of Texas; Hermann resides at Yoakum, Dewitt county; Frances became the wife of Emil Polar and her death occurred at Shiner; Julius resides at Dreyer, as a farmer and stock-grower, as does also Edward; Charlotte, who died at Charlottenburg, was the wife of John Neizer; Rudolph is a resident of Shiner; Adolph maintains his home at Sweetwater, Nolan county; and Mrs. Emma Schoenvogel resides at shiner. Adolph, the youngest son, is a civil engineer by profession and vocation. He was graduated in the Massey Business College, in the city of Houston, and thereafter completed a comprehensive correspondence course in civil engineering in a leading correspondence school in the City of Philadelphia. As a practical engineer he assisted in the surveying and laying out of a branch of the Atchison, Topeka & Santa Fe Railroad across the plains of Texas. It is most gratifying to record that Mr. and Mrs. Henry Dreyer can claim as their progeny in the second and third generations forty grandchildren and thirteen great-grandchildren.—pp. 1295-1299.
EDWIN THOMAS DOOLEY.One of the veteran railroad men of Texas is Edwin Thomas Dooley of Yoakum, who has not only earned the reputation of being a careful and efficient member of the operating force on the San Antonio and Aransas Pass and is one of the oldest conductors of that system, but has also thriftily engaged his earnings by investments is real estate and as a citizen of Yoakum has done much to develop that town by building improvements.
A native of Indiana and of Irish parentage, Edwin T. Dooley was born at Arcola, Allen County, Indiana, October 31, 1857. His parents were John and Joanna (Quinn) Dooley, both natives of Ireland. His mother's people cam from County Kerry. When John Dooley came to the United States he first located in East Concord, New Hampshire, where he married. In the '50s he moved from New Hampshire and after a brief stay in Ohio took up his residence in Allen County, Indiana, where the rest of his life was spent. He was a railroad man, a section foreman and track layer. While in New England he laid track on the East Concord & Montreal Railway, later on the Muncie, Jackson & Saginaw Railway, on the Memphis & Charleston Railway, and for a number of years was in the employ of the Pennsylvania Company in Indiana. He became highly regarded as a track man, and continued in the service until too old, after which he retired to a farm. He died in 1890 at the age of seventy, having survived his wife. Their children were: William of Fort Wayne, Indiana; John, who was killed while working as a switchman in Chicago, leaving six children; Jerry, who was also a railroad man and died unmarried; Joanna, who married Mike McLaughlin and died in Allen County, Indiana, leaving three children; Edwin Thomas; Charles, who has been a railroad man all his active career and now lives in San Antonio; Mary, wife of Will Newhouse of Bakersfield, California; and Alice, who died as the wife of James Stack of Plymouth, Indiana.
Reared in the wooded section of Northern Indian, Edwin T. Dooley gained his education in a little frame schoolhouse at Areola. On leaving school he found work as a farmer until twenty-two years old, and the beginning of his long service as a railroad man was on March 17, 1879, when he became a freight brakeman on the Pennsylvania Railroad, running between Fort Wayne and Chicago. After about three years as brakeman he was conductor for a year, and then left to come South, spending a short time in Cairo, Illinois, before arriving in Texas.
Mr. Dooley first came to Texas in May, 1883. His first work here was as a switchman in the Eagle Pass yards, where he was employed from September, 1883, to August of the following year. After a few months he was made a fireman on the Mexican International Railway, running south into Mexico from Eagle Pass and Ciudad Porfirio Diaz. In different capacities he worked along that road and in that country for about two years, and finally returned to the transportation department and spent two years as yardmaster at Eagle Pass and Ciudad Porfirio Diaz. He next headquarters were at San Antonio, where he continued in the yard service and transportation department, and was then back in Mexico two years in the freight and passenger service of the International. His runs took him through the states of Nuevo Leon, Coahuila and Durango. In the fall of 1893 Mr. Dooley came to Yoakum, and has since been one of the ablest men in the transportation department of the Aransas Pass road. He began as a freight brakeman, five years later was promoted to freight conductor, and in 1905 gained promotion to passenger conductor. He has been running some of the best trains over the Aransas Pass road and out of Yoakum in all directions.
During more than twenty years of residence at Yoakum Mr. Dooley has built five different homes. He was one of the pioneers to locate and start building improvements in the Tucker Addition to that city, and his own home is one of the best in that locality. He also owns a good farm in Dewitt County, and has exercised excellent judgment in the investment of his earnings in local real estate.
As a veteran in railroading service Mr. Dooley is well known among the members of the Order of Railroad Conductors and the Brotherhood of Railway Trainmen, and has filled offices in both orders. He is also affiliated with the Benevolent and Protective Order of Elks, the Knights of Pythias and the Knights of Columbus. At Areola, Indiana, on October 21, 1888, Mr. Dooley married Miss Rose Steiner. Her parents, Joseph and Mary (Hoerne) Steiner, both came to America from Alsace, which was then a French province. The Steiner children were: Mary, who died unmarried; Fannie, wife of Joseph Champion; Mrs. Dooley, who was born at Columbus, Indiana, October 21, 1859; Susie, who married James Roe; Barbara, wife of Melville Lillich; Josie, wife of Ernest Phillips; and Joseph, who died at Yoakum, leaving a family of five. Mr. and Mrs. Dooley, though without children of their own, have made their home almost an orphanage for the benefit of some of the orphan children of their relatives, and they have done much to rear and contribute to the training of a younger generation.—pp. 1273-1275.
PROF. WILLIAM EILERS.The county superintendent of Lavaca County, now serving his third term of two years in this position. Prof. William Eilers belongs to one of the pioneer German families of Texas, and was born in Fayette County, October 5, 1863. His birth occurred under the "Stars and Bars" and he was one of a trio of neighbors born within six miles of one another and all born under a different flag, one under the emblem of the "Lone Star," in 1843, and the other under the flag of the Union, in 1849.
The father of William Eilers was Henry Eilers, who passed the latter part of his life as a planter and died on the plantation he settled in 1848. He came to Texas in 1845. His native place was Rodenkirchen, Oldenburg, Germany, and his birth occurred in 1823, he being one of two brothers and the only one to come to America. His brother, Gerhard Eilers, remained in Germany and died there, leaving a family, and one of his grandsons in now a prisoner on the isle of Man, having been captured by the English while he was en route home to join his regiment for participation in the great European war which is now raging. The school education of Henry Eilers was somewhat limited, but he was a great reader and became unusually well informed in history and current events. He grew up in the home of his widowed mother, who had been reduced to modest circumstances. He was twenty-three years of age when he emigrated to America, landing at Galveston, Texas, aboard one of the last immigration vessels to that port. He went on to Houston and finally to Fayette County, and for a few years was a farmer, in 1848 adding freighting and immigrant transportation from Houston to Fayetteville, Austin, San Antonio and Victoria. He and his partner did this with box wagons and it was he who hauled, in 1853, the first Bohemian settler to Cat Spring, Austin County, and placed the first Wendish family into the interior and settled them at Serbin, Lee County, now Northrup, in 1854. Mr. Eilers and his partner brought most of the German and Bohemian settlers in to Fayette, Austin and Colorado counties, and they followed the business until the outbreak of the Civil war.
Notwithstanding the frontier character of the country, there was honesty prevailing, and the partners doing this immigration business were never molested in their persons or property, although they frequently had from $1,000 to $2,000 in silver with them in shot sacks. Henry Eilers did not enter the army on either side. His objection to joining the Confederate forces was respected and he was asked by the authorities to care for several families of the neighborhood and this he did, being thus exempt from military duty. He had a brother-in-law in the Confederate service and another in the ranks of the Union. Mr. Eilers believed that the Government should pay for the slaves and emancipate them gradually, although he owned none of them himself. Upon naturalization, he cast his lot with the democratic party and his last vote was cast for William Jennings Bryan for President. He requested his son, William, to do likewise, arguing that the poor man's interests would be best subserved by Mr. Bryan's election, and he left that as a standing admonition for his sons to vote always in favor of the poor man. He never held an office. The editor of the Schulenburg Sticker stated in his obituary that the name of henry Eilers was a synonym for honesty and veracity. Both Mr. and Mrs. Eilers were devout members of the Lutheran church.
Henry Eilers married Augusta Frels, a daughter of John Hinrich Frels and his wife Sophie Agnete, nee Ruge. John Hinrich Frels was born at Langwarden, grand duchy of Oldenburg, April 17, 18007. Sophie Agnete Ruge was a member of the noted Wellman family and was born January 6, 1810. They married April 17, 1834, and emigrated to Texas in 1849, settling in La Grange. Henry Eilers died in 1899 and his wife in 1896. Their married life was spent on his farm on Ross Prairie, three miles from Fayetteville, and when he died Mr. Eilers had lived there fifty-one years and had brought about two-fifths of his farm of 600 acres under cultivation. There were eight children in the family, as follows: Gerhard, of Falfurrias, Texas; Henry, city marshal, of Schulenburg, Texas; William, of this review; August, county commissioner and farmer, and a resident of Hallettsville, Texas; Frederick, of Fayetteville; Ernest who died at Yoakum, Texas in 1902, unmarried; Miss Augusta, of Fayetteville; and Anna, who is the wife of Dr. Charles Kaderka, of Fayetteville.
When William Eilers was a boy he worked on the farm, but enjoyed hunting and reading above everything else. He read many trapper stories and stories of pioneer life and until he was sixteen years of age, it was his intention to become a hunter and trapper. Owing to financial losses which his father sustained, he commenced to support himself when he was sixteen years of age although his father offered to continue him at school. Mr. Eilers, Sr., urged all of his children to secure a good education and offered them the means to do this, but William had determined to support himself. He received his father's permission to represent a monthly paper published in Maine and canvassed the rural districts with it. The paper cost only one dollar and the subscriber received six large and six small chromos as premiums. The chromos were worth the money at that time, and he secured ten subscribers a day making thirty cents on each. Board and lodging did not cost him anything among the country people. After canvassing for several months, he went to school again for twelve months and eight days without intermission After going seven months, he took the teachers' examination at LaGrange, Fayette County, and received a second grade certificate; five months later he took the examination at Hallettsville, Lavaca County, and received a first grade. During his last year at school he paid all of his expenses except board, which he received at home. When he left home to teach he owed a Mr. Henry Forrest $10 for a copy of McCabe's Pictorial History of the World and a watch. He requested Mr. Forrest not to mention this to his father for, in that case, he would pay for them, and he didn't want him to do so. The volume referred to has been much used and is much worn, but it occupies a conspicuous place in his library and is kept as a memento.
William Eilers grew up on the old Eilers homestead, near Fayetteville, and acquired his education in the public schools of Fayetteville. When he was past eighteen years of age, he engaged in teaching in the old Kinkler school of Lavaca County, with a first-grade certificate. He opened his first school in 1882 with thirty-eight children, and at the end of his second year a new schoolhouse was erected and an assistant teacher provided him. At the end of his sixth year, when he resigned from the school, he had eighty-six children under his charge. The fact that the board increased his salary each year, caused him to continue teaching, whereas he had originally intended to do so only for a year or so and then attend the normal school and complete his education. Some of his pupils could not speak English when they entered and four of the same became teachers, one has entered the law, and two have devoted themselves to the medical profession.
On leaving that school, Mr. Eilers entered the Sam Houston Normal School, at Huntsville, and there was graduated in 1891. He was elected superintendent of the Schulenburg schools, was next made principal of the LaGrange High School, then principal of the Burton High School, subsequently teacher at Wardo [Warda], Fayette County, and was then appointed to a position in the Department of Education at Austin, by Supt. R. B. Cousins, and stayed there from 1905 until 1909, just four years to a day.
Leaving the state house June 15, 1909, Mr. Eilers matriculated in the summer school of the University of Texas, June 17th, and took three course, education, history and school supervision, and just before the completion of his term he was appointed a member of the State Summer Normal Board of Examiners by Superintendent Cousins. He spent a year as superintendent of the Sam and Will Moore Institute at Moulton and was elected from there to the county superintendency of Lavaca County, in 1910. The announcement of his candidacy brought his old pupils who had no become voters into line for him and he was nominated over a strong man for the office. He succeeded E. P. Guenther in the office and has been twice re-elected. He has had experience in all phases of school work. He taught in the rural schools and in urban high schools. He was a member of the county board of examiners for many years and twice a member of the state board of summer normal examiners. He taught in two summer normals, conducting one of them. He was always an active participant in teachers' institutes and for many years a member of the South Texas and State Teachers' associations.
As county superintendent, Mr. Eilers has caused twenty-six new districts to vote a local tax for the support of their schools and some fifteen districts have increased their taxes, there being now fifty-three districts levying tax for public education. Many new buildings have been erected and others improved since his advent in office and there has been much new equipment for school work added. The state course of study for rural schools has been substituted for the county course by all the schools of the county, forty-five schools of the county have libraries, totalling 3,114 volumes; fourteen districts own cottages which the teachers occupy free of charge, physical culture was taught in fifty-five schools last year; singing in sixty schools; drawing in fifty-two, and current events find a place in the curriculum of most of the schools of the county. Manners and morals are taught in sixty-three schools, a flag ritual for teaching civic patriotism is used in forty-eight schools, a; fifty-eight schools have opening exercises; twelve of them have school gardens; seven have organized Audubon societies for the protection of singing and insect-eating birds, and nearly all the teachers of the county are teaching bird protection. One rural school has joined the Boy Scout movement. The teachers all attend the county and local institute, held in six different places in the county, and teachers are expected to attend at least five of them. All teachers take one or more professional papers and read one or more professional books from the county library of 180 professional books during the year.
Mr. Eilers has introduced industrial work into the negro schools of the county, this innovation coming in September, 1914. Upon application to the Anne T. Jeanes Foundation he received $350 for this work. He appointed a colored female of twenty years of experience for the work at the Prairie View Normal School. She is required to stay a week at each school and to teach cooking, sewing, rafia and other hand work, and sanitation, and at the end of each week she reports the result of her work to the county superintendent. She also lectures to the colored people of the community and is urged by the superintendent to impress upon their minds the importance of greater care of their school buildings and paraphernalia and the improvement of sanitation at their homes.
Mr. Eilers was married in Fayette county, Texas, October 14, 1906, to Miss Martha Buchschacher, a daughter of Rev. Godfrey Buchschacher, who came to Texas from Berne, Switzerland, and is a Lutheran minister at Warda, Texas. The father of Rev. Godfrey Buchschacher was Dan Buchschacher, who emigrated to New York from Switzerland in the later fifties. He joined a cavalry regiment when the Civil war broke out and participated in eighteen battles. He was in the first battle at Bull Run and the last one which was fought at Brazos Santiago on the coast of Texas after Gen. R. E. Lee had surrendered. Dan Buchschacher was wounded three different times and was blinded in his right eye as the result of a shrapnel striking a cup of boiling coffee which he was holding in his hand. He died at Warda at the age of eighty-two and was laid to rest there in 1913. Mrs. Buchschacher was formerly Amanda Thoensen, and Mrs. Eilers is the second of four children the others being: Rev. Ernest, Emanuel and Miss Irene. Three children have been born to Mr. and Mrs. Eilers: Willie, Ernest, and Erwin. Mr. Eilers is a member of the Lutheran Church, is secretary of the congregation at Hallettsville, a teacher in the Sunday school, and one of the trustees of the church. Mr. Eilers is a Royal Arch Mason and belongs to the Chapter. He also holds membership in the sons of Hermann, and in both orders has numerous friends.—pp. 1261 -1265.
FRANK L. ERMIS.A retired business man of Engel, Frank L. Ermis is one of the early Bohemian settlers of Fayette County, having lived in the State of Texas almost half a century. He has risen from the discouraging conditions which confronted most men of foreign birth and training who arrived in Texas at that time, to a position such as only comparatively few reach in a business and civic way.
He was born at Frankstad in the Province of Moravia, Bohemia, April 11, 1848, and was eighteen years of age when he came to America. His father, Frank Ermis, a farmer and quarryman by occupation, embarked his family upon board the sailing ship Irish at Bremen in 1866, and after a voyage of twelve weeks, during which a storm drove the vessel four hundred miles out of its course, landed in Galveston. At that time, only a year after the close of the Civil war, the railroad mileage of Texas was very limited, and the family rode over the rails as far as the then terminus of the Southern Pacific, to Alleyton, on the Colorado river and thence a wagon and nine oxen conveyed them to High Hill, where they had friends living. Thence they continued on to Osso [Oso] in Fayette county, their first point of settlement. Frank Ermis in the second year of his residence in Texas bought land at Praha, and spent the rest of his active career there as a farmer. He died in February, 1873, when a little past fifty-three years of age. He married Mary Hermis, who died in 1911 at Praha when eighty-four years of age. They were both active members of the Praha church, which they helped to build and in which they reared their children in religious instruction. These children were: Johanna, widow of Frank Jureka, of Praha; Mary, who married in Bohemia Cyrill Matula and remained in that country; Frank L.; Joseph, an extensive farmer at Shiner, Texas; Bertha, who married John Bucek and lives in El Campo; Annie, who married Nick Brod, of Shiner; and Agnes, now deceased, who married Charles Gallia.
Frank L. Ermis received his early education in the Village of Kozlovic in Moravia, and after coming to Texas acquired considerable instruction from local teachers. The beginning of his career was one of hard manual labor. For some time he was employed in a stone quarry and as a mason at wages of "four bits" per day with board. During two winters he clerked in a store at old Flatonia for $12 to $15 a month and board. From these occupations he returned to the farm, married, spent the first year in operating the old homestead for his mother, and then bought a place at Vellehrad [sic.] on the Lavaca County line, which was his home for ten years. The land when it came into his ownership was absolutely unimproved, but he left it as a valuable farm, and was the owner of 300 acres when he sold out. His steady industry and good management gave him the foundation for his subsequent prosperity.
In 1880, having sold his farm, Mr. Ermis removed to Hallettsville and became a merchant. For five years he sold goods as a general merchant, and also was an extensive buyer of cotton. He had some business reverses and finally sold his interests in Hallettsville, and with three partners bought 9.000 acres of school land in Lavaca, Dewitt and Gonzales counties. He at once removed to this land and undertook its improvement. He put up several tenant houses, built a gin, established a postoffice under the name Hermis, of which he was the first postmaster, and was succeeded by his son. After a few years he sold all his land, and concentrated his attention for seven years upon the management of the store and cotton gin. Eventually he sold this property, returned to Velehrad, bought another farm of the 425 acres he still owns 208 acres. In 1912 Mr. Ermis removed to Engel and bought the various business interests of I. J. Gallia, consisting of houses, stock, land and other properties in the village. Here he again became identified with merchandising, but is only a silent partner in the firm of Engel Hardware & Furniture Company, handling a large stock of furniture, hardware, implements, wagons and buggies. Mr. Ermis owns a small farm of eighteen acres adjoining the village limits and his home is one of the best in that community. He has given extensive repairs to all his own business houses and has built several structures for the accommodation of his own and other enterprises.
Since reaching his majority Mr. Ermis has acted and voted as an American citizen and has manifested an intelligent interest in affairs around him. From association with neighbors and friends he naturally inclined to the democratic party and has served many times as school trustee while living at Hallettsville, Vellehrad [sic.] and Shiner. His only other official service was a postmaster at Hermis as already mentioned.
On September 2, 1870, Mr. Ermis married Miss Clara Michni, daughter of Vancil Michni, who died at Refugio County, Texas, at the wonderful age of ninety-eight years. Vancil Michni was born in the same village where Mr. Ermis first saw the light of day. He married Mary Holub. The six Michni children were: Mary, who died as the wife of James Gahanak; Johanna, now deceased, who married Antone Gahanak; Mrs. Ermis, who was born June 5, 1852; Joseph, of Kennedy [sic.], Texas; Rudolph, of Wichita Falls, Texas; and James, of Refugio County.
The children of Mr. and Mrs. Ermis are mentioned briefly as follows: James, who died in Seymour, Texas, married Louisa Pacha; Frank, a farmer at Moulton; Joseph, who is a large farmer near Shiner, married Frances Malena; Charles, who married Annie Kosack and lives at Vellehrad; Louis, a farmer at Mouton, married Louisa Palica; Willie, a farmer at Vellehrad, married Miss Lelia Gahanak; Clara, wife of Lebo Jarosek, of Engel; Emma, who married Hendre Orsak, and Engel merchant; Lucy, wife of John Farek, of Engel; and Julia, a twin sister of Lucy, who is the wife of Joseph Farek. The son, Frank, mentioned among the above children, married Lillie Pecha.—pp. 1383-1384.
FREDERICH T. FEHRENKAMP.
It is gratifying to give recognition in this history to Mr. Fehrenkamp, who is to be designated as one of the pioneer business men and representative citizens of the Village of Moulton, Lavaca County, a place at which he established his residence when the town had but two stores and was otherwise in embryonic state, the railroad line having at the time been but recently completed through the place. For more than a quarter of a century he has been actively identified with the lumber business at Moulton and he is now the owner of the pioneer lumber yard of the town, the same being well. equipped and controlling a substantial business in the handling of lumber and other building supplies. Mr. Fehrenkamp has been one of the aggressive and loyal forces in the development and upbuilding of his home village and is a substantial and honored citizen who further merits consideration by reason of his being a native son of the Lone Star State and a representative of one of its sterling pioneer families.
On the pioneer homestead of his parents, northeast of Liveoak Hill, Colorado County, Texas, Frederich T. Fehrenkamp was born on the 7th of July, 1857, and he was reared in that community, where his father was a representative farmer, his educational advantages having been those afforded in the common schools of the locality and period. His first independent venture was made by his entering the employ of the Ehlinger family, in the capacity of teamster on freighting wagons engaged in operating from the old Town of Ellinger to Columbus. After severing this association he served a practical apprenticeship to the carpenter's trade, and after becoming a skilled artisan he continued to work at his trade until after he had passed his majority and had taken unto himself a wife. He then removed to Lavaca County and engaged in farming in the immediate vicinity of the old Town of Bowersville [Baursville], not far distant from the present thriving Village of Moulton, which at that time was "not on the map." He purchased his farm, made good improvements on the place and there continued his residence eight years, within which he brought the farm under effective cultivation. In 1888 he left the farm, of which he later disposed, and established his residence in the ambitious new Village of Moulton, where he became a clerk in the employ of J. W. Matteer, who was the first to establish a lumber business at this place, the village basing its claims for advancement on its newly acquired railroad facilities. After having been associated with Mr. Matteer for 7 1/2 years Mr. Fehrenkamp purchased the yard and business, and he has continued the enterprise successfully since that time in an individual way. "When he located at Moulton the town had only two mercantile establishments,—the Boehm Store and that of the firm of Jackson & Company. As a business man and progressive citizen he has been closely concerned with the upbuilding and development of Moulton, where he erected his attractive residence and made other improvements for the benefit of the town, besides being the owner of his well equipped lumber yard, with its substantial shed for storage purposes and with a building used for office purposes and as a store for the handling of paints, oils, glass and other building accessories.
The general civic interests of Moulton have received the earnest support and encouragement of Mr. Fehrenkamp, and he has given specially valuable service in the office of trustee of the school district, the first school having been established at Moulton after he had here taken up his residence and he having soon afterward been chosen one of the trustees, a position in which he has continued to serve for fully twenty years. He has shown no desire to enter the activities of practical politics but has been content to do his part as a loyal and public-spirited citizen and to support the mean and measures meeting the approval of his judgment. He was reared in the faith of the Lutheran Church but his wife and children are communicants of the Catholic Church. He is affiliated with the Blue Lodge and Chapter of the Masonic Fraternity and both he and his son Victor 0. are members of the Hermann Sohns.
Mr. Fehrenkamp is a son of Gerhard and Christina (Frehrichs) Fehrenkamp, the former of whom died in Fayette County in 1879, at the age of fifty-six years, his devoted wife having passed away in 1869, and their remains resting side by side in the cemetery at Frelsburg, Colorado County. Gerhard Fehrenkamp was born in Germany and was a son of Bernard Fehrenkamp, his younger brother, Dr. Bernard J. Fehrenkamp, having become a representative physician and surgeon at Frelsburg. Christina (Frehrichs) Fehrenkamp was the oldest of the children of Frederich Frehrichs [Frerichs], who came from Oldenburg, Germany, and became a pioneer farmer in the Liveoak Hill District of Colorado County, Texas, where he devoted his attention also to fruit-growing and where he passed the residue of his life. In his native land he had followed the trade of watchmaker and had also been a musician in a semi-business way. Of his children Mrs. Fehrenkamp was the eldest, as previously noted; Frederich, Jr., resided in the vicinity of Frelsburg, Colorado County, until his death, and was survived by several children; William died in the Rock Hous community in Austin County and left children; Henrietta married Otto Baring and died near Oakland, Colorado County. In the appending paragraph are given brief data concerning the children of Gerhard and Christina (Frehrichs) Fehrenkamp:
Bertha became the wife of Alois Koniakowsky and died at Ellinger, Fayette County, in 1912, leaving seven children—Minnie, Bertha, Erna, Emma, Lizzie, Alois, Joseph and James. Bernard Fehrenkamp resides at Shiner, Lavaca County, and Gerhard at Ellinger, Fayette County; and Frederich T., of this review, is the youngest of the children. For his second wife Gerhard Fehrenkamp, Sr., married Mrs. Eliza (DeLaux) Giesbers, and the one child of this union is Otto Fehrenkamp, who resides at Temple, Bell County.
At Liveoak Hill, Texas, on the 20th of June, 1878, was celebrated the marriage of Frederich T. Fehrenkamp to Miss Hildegard Giesbers. daughter of Henry Giesbers, whose widow became the second wife of Gerhard Fehrenkamp, Sr., as noted above. Mr. Giesbers was one of the sterling German pioneers of Texas, where he established his residence in 1848, upon his immigration from Dusseldorf, Prussia. For a number of years he was a merchant at LaGrange, Fayette County, and he passed the closing period of his life at Rutersville, that county. Of his four children Mrs. Fehrenkamp is the only daughter; John is a farmer near Moulton; Charles resides at Temple; and Henry died a bachelor.
In conclusion are entered brief data concerning the children of Mr. and Mrs. Fehrenkamp: Ida became the wife of Vladimir Boehm and died at Moulton, in March, 1913, two daughters surviving her, namely: Helen and Marguerite. Lillie is the wife of H. George Bargmann, of Snyder, Scurry County, and they have two children—George and a daughter born in the spring of 1915. Erna is the wife of A. F. Kotzebue, of Moulton, and they have three children—Roy, Alice and Henry Earl. Louis, who resides at Moulton, married Miss Augusta Ullmann and they have one son, Harvey, Victor Otto, a popular young business man, is associated with his father in the latter's various business activities. Elois C., who is assistant cashier of the bank at Moulton, married Miss Delia Boehm. Henry, who likewise is associated with his father's business activities, married Miss Emma Ullmann. Frederick has recently completed his studies in the public schools of Moulton.—pp. 1402 -1404.
JOHN ABNER FOWLKES. A native of Texas when it was a republic, John Abner Fowlkes owns and operates a fine plantation in Lavaca County, where he is regarded as among the pioneer citizens. Mr. Fowlkes typifies the planter of the older class and generation, and while he has had his share of vicissitudes and hardships possesses a serene optimism which enables him to see the enjoyable side of life. He possesses a large fund of information about people and things of other days, has many entertaining reminiscences, and friends and guests at his hospitable home are never without the entertainment furnished by cultivated talk. At the same time he has made a success in his business affairs, and is one of the ablest representatives of his generation.
John Abner Fowlkes was born near the village of Oakland, at what was known as Prairie Point, only a few miles from his present home, on February 14, 1843. The Fowlkes family is of Scotch-Irish origin, his forefathers going into Ireland following the reign of Cromwell, and a later branch sending its posterity to the shores of America. The name was originally Fawkes, but in America it has taken its present form of orthography.
The grandfather of Mr. Fowlkes was E. B. Fowlkes, a planter and slave holder of Culpeper County, Virginia, who moved to Arkansas in 1839, bringing his retinue of slaves and. locating in Hempstead County. There he spent his last years and left a fine estate. He served with the rank of quartermaster in the War of 1812, his official designation being captain, and belonged to the pro-slavery party of the South and acted with the democratic party. He died before the outbreak of the war between the states, but his sons enlisted and served as Confederate soldiers. By his marriage to Miss Bruce he had the following children: Ethelbert B.; Emily, who died at Washington, Arkansas; Eliza, who married J. P. Hervey, and died near Hope, Arkansas; Abner, who served as captain in Price's army, and died near Hope; Louisa, who first married a Mr. Rainey and later a lawyer named Canaday, and lived in Sevier County, Arkansas.
Ethelbert B. Fowlkes, father of John Abner, was born in Culpeper County, Virginia, and in 1839 moved to Texas and located his family at Rutersville, in Fayette County. During the first years spent in the republic he was chiefly occupied in Indian fighting. He taught a session or so of school at LaGrange, being a man of liberal education and a graduate of a college at Georgetown, D. C. He was a man whose ability would have graced any public position, but he possessed that spirit of adventure which kept him in the exciting scenes of the frontier. He had come to Texas for the purpose of aiding Houston in battling with the Mexicans, but the war was over before he arrived, and his service was chiefly as an Indian fighter. He was in the fight at Plum Creek, an engagement frequently mentioned in the historic annals of the time. When he gave up his duties as a soldier he engaged in farming, moved to Colorado County, and settled on Navidad Creek, on what is now the Rabb place. He lived there from 1846 until 1853, and then removed seven miles below Columbus, purchasing a plantation with the inheritance from his father's estate. Some years later his wife died there, and he afterwards married a Mrs. Wooldridge, and spent his remaining years about a mile from Oakland. He is buried in Clear Creek Cemetery. His death occurred March 8, 1880, at the age of sixty-three. He did some service in the Confederate Army as a member of the militia, and was a squire for the Oakland community. A man of thorough and exact information, he had no ability as a public speaker, and his participation in public affairs was always in a modest capacity.
Ethelbert B. Fowlkes first married Mary McClelland, a daughter of Frank McClelland, whose home was at Prescott, Arkansas. Mrs. Fowlkes died below Columbus and is buried in a private cemetery. Her children were: Edward Bruce, who was killed in Georgia just at the close of the war during the Ku Klux troubles of that state, having been a Confederate soldier in the Eleventh Louisiana Infantry; Eliza, who married J. P. Mays, and died near Oakland, Texas; John A.; and Josephine, who became the wife of James W. Carson, and died in 1889 near Oakland.
John Abner Fowlkes grew up on a plantation in Colorado County. It was intended that he should have a liberal education, and he was in the process of carrying out that plan at Sweet Home, in Lavaca County, when the war broke out between the states. He volunteered there in Captain Fred Malone's company, which soon disbanded, and his next enlistment was in Company C, of Willis' Battalion, Wall's Texas Legion. Willis' Battalion left for the front with more than seven hundred men, and its losses were exceedingly heavy during the war. This command made an effort to join the Confederate Army before the battle of Elkhorn, in Northern Arkansas, but failing in effecting a junction with the main body of Confederate troops in October, 1862, it crossed the Mississippi River at Vicksburg and reenforced General Van Dorn's army, and during 1863 took part in the Vicksburg campaign, being in practically all the fighting under General Joseph Johnston in his efforts to relieve that city. After the fall of Vicksburg Mr. Fowlkes and his comrades were placed under General Bedford Forrest for raiding purposes. He participated in the capture of Fort Pillow and was present when General Forrest gave the order to take no negro prisoners, since the South did not recognize them as soldiers. After Fort Pillow the command went into the iron region of Alabama, near Montevallo, then returned into Mississippi, and met Grierson's troops at Guntown, defeated them at Brice's Crossroads and struck A. J. Smith's army at Pontotoc and fought them for four days near Harrisburg, on Town Creek, an engagement which brought heavy losses to Willis' Battalion. After the command had been recruited it was ordered to Mobile to act as pickets for General Maury, and was finally returned into Mississippi, and at Vernon one-half of the Texas troops were furloughed. Mr. Fowlkes was one of the lucky ones who drew a permission to return home, and walked from the army headquarters as far as Beaumont, Texas, then took a train and journeyed by rail to the terminus of the line at Columbus, and from there walked to the home of Mrs. Crenshaw, who urged him to take a horse for the rest of his way home. Mr. Fowlkes had been absent from June, 1862, until April, 1865, and had escaped serious injury and had never become a prisoner in the hands of the Federals.. His first captain was Frank Weeks, and his second was John Conn. Maj. T. M. Howard was in command of the battalion at the close of the war. Mr. Fowlkes has been a frequent veteran in the Confederate reunions, and has attended those notable gatherings at Little Rock, Mobile, Houston, Birmingham, and Jacksonville.
As soon as some order had been introduced into industrial and civic life following the chaos of the war Mr. Fowlkes took up farming. In 1865 he planted a crop of cotton and sold his product at fifty cents a pound. The following year misfortune overtook his plantation, and he lost nearly all he had made in previous seasons. Somewhat later he bought a farm from Dr. Bush Wilkins, in Lavaca County, but in the early '70s began buying land included in his present plantation. In 1889 he removed his home to his ranch and built one of the best country residences in the county at that time. His present holdings include over eight hundred acres, and it is all devoted to mixed farming and stock raising. Mr. Fowlkes has been interested in democratic politics, is an anti-prohibitionist, was never a candidate for office, and fraternally is affiliated with the Masonic lodge. In his religious opinions he has a strong leaning toward Universalism.
On March 11, 1869, near his present home, Mr. Fowlkes married Miss Mary Margaret McKinnon. Her father, Laughlin McKinnon, came from McNairy County, Tennessee, to Texas in 1850, and was a carpenter by trade and a farmer by general vocation. His wife was Lizzie Sherrnan, and among their other children were Mrs. Joseph Simpson, Mrs. Thomas McKay, Mrs. George Brady and Laughlin McKinnon.
Mr. and Mrs. Fowlkes are the parents of the following children: Lizzie, wife of A. W. Turner, of Victoria, Texas; Robert L,, of Wichita Falls, Texas; Ed B.; Miss Margaret; McKinnon B.; Abner W., of Caldwell, Texas; and George Clark. McKinnon B. Fowlkes married Miss Katherine Miller, of Sublime, Texas, on November 4, 1914, and they have one son, John Abner Fowlkes, Jr. She is a daughter of Robert and Emma (Strunk) Miller, of Sublime, and a sketch of his father, Robert Miller, Sr., appears elsewhere in this publication.—pp. 1322 -1324.
CHARLES J. GARBADE. A son of Dietrich Garbade, the honored pioneer citizen to whom the preceeding article is dedicated, Charles J. Garbade, secretary, treasurer and manager of the Garbade Lumber Company, at Shiner, Lavaca County, takes pride in claiming the Lone Star State as the place of his nativity. He was born at Flatonia, Fayette County, Texas, on the 29th of December, 1878, and his boyhood and youth were passed in the Witting community of Lavaca County, where he duly availed himself of the advantages of the public schools. Thereafter he entered the Texas Agricultural & Mechanical College, at Bryan, in which excellent institution he completed a three years' course in special mechanical engineering, but when he left school he did not take up the work of the profession for which he had thus prepared himself. On the contrary, he found employment in the lumber yard of T. A. Hill & Son at Hallettsville, the judicial center of Lavaca County, where he remained three years and where he acquired a comprehensive and exact knowledge of the various details of the lumber business, both technical and commercial. At the expiration of the period noted he removed to Shiner and became salesman at the Flato lumber yard. When Robert Eschenburg succeeded Mr. Flato in the ownership of the business Mr. Garbade was made manager of the enterprise, and finally he purchased a half interest in the business, under the firm name of Eschenburg & Garbade. The enterprise expanded in scope and importance and it was finally found expedient to organize for its conduct a stock company, Mr. Eschenburg selling his interest at this juncture and Mr. Garbade securing as his coadjutors in the formation of the new organization Messrs. Henry Dreyer, Sr., and J. C. Koerth. These three principals preceeded to the organization and incorporation of the Garbade Lumber Company, which bases its operations on a capital of $20,000, and of which Mr. Dreyer is president; Mr. Koerth, vice president; and Mr. Garbade, secretary, treasurer and manager, the venerable president of the company being individually mentioned on other pages of this work.
Mr. Garbade is known and honored as one of the most progressive business men and liberal and public-spirited citizens of Shiner, and he has contributed to the advancement of the town by the erecting of a number of houses, which he has sold, besides his own residence, which is one of the modern and attractive homes of the village. His political allegiance is given to the democratic party and he is now serving as secretary of the City Council of Shiner, a position of which he has ben the only incumbent, his original election having occurred in 1909. He is a member of the volunteer fire department of the village and also a trustee of the public schools. Mr. Garbade is a Master Mason; is affiliated with the Hermann Sohns, and is past chancellor of the Shiner Lodge of the Knights of Pythias, which he ahs represented as a delegate to the grand lodge of the order in Texas.
At Shiner, on the 18th of February, 1901, was solemnized the marriage of Mr. Garbade to Miss Mollie Gehrels, daughter of Fritz and Johanna (Ummelmann) Gehrels, both of whom likewise were born in Texas, where their respective parents settled in the pioneer days. Mr. Gehrels has been one of the substantial agriculturists of Texas and he and his wife now maintain their home at Shinere, where he is living virtually retired. Their other children are Mrs. Charles muecke, Mrs. Otto Muuecke, and Edward Gehrels. Mr. and Mrs. Garbade have three children—Rudy C., Walter, and Percy Herbert.—pp. 1304 -1305.
DIETRICH GARBADE. Coming from his German Fatherland to America as a youth of seventeen years, this well known and highly honored citizen of shiner, Lavaca County, has been a resident of Texas for more than forty years and has here found ample opportunity for the achieving of independence and definite success. He is now living virtually retired, though he finds ample demands upon his time and attention in the supervision of his substantial property interests and to rendering efficient service in behalf of the attractive little city in which he has established his home.
Mr. Garbade was reared and educated in the City of Bremen, Germany, was born on the 19th of July, 1851, and the place of his nativity was his father's farm, near they city mentioned, the family home having been established in that immediate section of the great Empire of Germany for nearly two centuries, and the old ancestral homestead being now occupied by a sister of Mr. Garbade. The lineage of the Garbade family is traced back to remote Italian origin, and many generations ago representatives of the name removed from fair Italy to Germany, the old homestead which was the birthpace of the subject of this review having been in the possession of the family for 170 years. In Germany the family name has been primarily identified with the great basic industry of agriculture, and of the representatives it may be noted that one of the brothers of Dietrich Garbade is a member of the mercantile firm of Garbade, Eiband & Company, in the City of Galveston, and that another brother is engaged in the grocery business in the City of San Antonio.
The presence of certain of his kinfolk in Texas constituted the chief inducement leading to Mr. Garbade's establishing his permanent home in Texas. Prior to coming to America he had not only received good educational advantages in the city of Bremen, but had also gained there excellent practical experience along mercantile lines. At Bremen he embarked for the United States in the winter of 1868, and he arrived in Texas in January of the year 1869, when he joined his kinfolk in Fayette County, the old Town of Flatonia having been made his destination. During the first two years of his residence in Texas he found employment principally in connection with farm operations, his cash capital having been only $28 at the time of his arrival and this money having been expended, with prodigality and pride, in the purchase of a saddle, it having been customary for the farmer employer to provide a horse for his workman, the latter furnishing his own saddle. Mr. Garbade was soon afflicted with illness, however, and for a period of several months he was unable to do work of any kind. His prolonged illness left him badly in debt and he found employment as clerk in a mercantile establishment at Flatonia, some time elapsing ere he was able to free himself from his indebtedness. At old Flatonia he was employed in the store of Gerhard Siems, who paid him $20 a month and provided him with room and board. At the expiration of a year Mr. Garbade went to the northern part of the state and obtained a clerical position in a mercantile establishment at Corsicana, where he remained thus engaged for one year. After his return to Fayette County he devoted two years to farming, and while thus engaged he took unto himself a wife,—a young woman who was destined to be his devoted companion and helpmeet during the years he was working his way forward to the goal of independence and prosperity.
Upon leaving the farm Mr. Garbade went to the new Town of Flatonia, where he was employed four years as a clerk in the general merchandise establishment of H. W. Yeager & Sons. He then engaged in business for himself, by opening a country store at Witting, Lavaca County, where he continued successfully in this line of enterprise for twenty-three years. Witting had at the time a cotton gin and a schoolhouse, the latter being utilized also as a Lutheran church. The place proved a most eligible trading point and as a general merchant Mr. Garbade, by fair and honorable dealings and effective service, built up a singularly large and substantial trade, from the profits of which he eventually found it possible to expand his field of operations and to become successfully identified with farming and cattle raising, with which lines of enterprise he was there successfully concerned for a period of about eight years. As circumstances justified he made investments in land, and he eventually accumulated a valuable landed estate of nearly 800 acres. This property he developed into six individual farms, and when he decided to retire from the mercantile business he disposed of four of his farms also. He continued his residence at Witting for somewhat more than thirty years, and in November, 1911, he and his wife established their residence at Shiner, where they own and occupy one of the commodious and attractive residences of the town, the same being known for its genuine hospitality and the latch-string always being found hanging forth for the accommodation of the many friends of Mr. and Mrs. Garbade. That Mr. Garbade maintains lively interest in local affairs is shown by his having served two years as a member of the board of aldermen of Shiner and two years as street commissioner. In the latter office he did most efficient work, though he did not ask or receive compensation for his services.
In his application for citizenship in the land of his adoption Mr. Garbade took out his first papers of naturalization at La Grange, Fayette County, and his final papers were given the official sanction at Hallettsville, the judicial center of Lavaca County. He cast his first vote in support of the democratic party's candidate for president, and he continued in the ranks of that party until the panic of 1892, when his honest convictions led him to transfer his allegiance to the republican party, of whose principles and policies he has since continued a supporter. While at Witting he served as postmaster, and at intervals for many years was school trustee.
Dietrich Garbade is a son of Henry and Anna (Brunhsen) Garbade, both of whom passed their entire lives in the immediate vicinity of Bremen, Germany; Bernhard, who was born January 24, 1844, continued his residence at Bremen until the time of his death; John, who was born March 17, 1846, married and died at Flatonia, Texas, in September, 1869; Henry, who was born January 23, 1848, is a prosperous merchant in the City of Galveston, Texas, as intimated in an earlier paragraph of this article; John T., who was born October 4, 1852, is a merchant and prominent citizen of San Antonio; Anna, who was born November 2,, 1854, is the wife of Frank Harff, of Bremen, Germany, which city likewise is the home of the youngest of the children, Meta, born January 15, 1856, and George, who was born October 28, 1859.
At Flatonia, Fayette County, in December, 1875, was solemnized the marriage of Mr. Garbade to Miss Agnes Muecke, a daughter of Charles and Dora Muecke, the former of whom was born in Holstein, Germany, and the latter in Austria. Mr. Muecke established the family home in Texas prior to the Civil war, during which conflict he was a teamster between this state and Mexico, his vocation thereafter having been that of farmer. Of the children the eldest was Amelia, who became the wife of August Kuenstler and who died near Cuero, Dewitt County; Mrs. Garbade was the next in order of birth and was born in the year 1856; Mrs. Emma Mueller resides at Flatonia; Charles was a resident of Shiner at the time of his death; Emil resides in the City of San Antonio; Mrs. Matilda Stein died at Flatonia; Dora is the wife of Samuel Burkett, of Yoakum, Dewitt County; and Otto resides at Shiner.
In conclusion is given record concerning the children of Mr. and Mrs. Garbade: Henry, who has become one of the representative business men in the city of Galveston, is there the proprietor of the Galveston Sheet & Metal Works, the maiden name of his wife having been Adele Garbade. Charles J. is made the subject of an individual sketch which follows immediately the one here presented. Walter, a young man of fine scientific attainments, completed his academic and professional education in the University of Texas, in the medical department of which he was graduated and he is now demonstrator in chemistry in the medical department of Galveston College. The maiden name of his wife was Helen Smith. Dietrich, Jr., who is bookkeeper for the firm of Arnim & Lane, of Flatonia, married miss Mollie Laede; Lillie is the wife of August Rogge, of Shiner; Agnes is the wife of Henry Rogge, of this place; William, who resides at Flatonia, married Miss Clara Stein; and Victor remains at the parental home.
The subject of this sketch is loyal and progressive as a citizen, is appreciative of American institutions and advantages and his children have all received excellent educational opportunities, two of his sons having been sent by him to the Texas Agricultural and Mechanical College.—pp. 1301 -1304.
JAMES D. GRAY, M.D.The thriving Town of Shiner, Lavaca County, is favored in having the interposition of a physician and surgeon of such distinctive ability and sterling character as Doctor Gray, who is one of the representative members of his profession in this section of the state and whose thorough and comprehensive technical training has been supplemented by broad and varied practical experience, his success offering the most effective voucher for his professional ability and his command of popular confidence and esteem. The doctor insistently observes the best ethical ideals of his exacting vocation, has deep appreciation of the responsibilities which it imposes and labors with all of zeal and earnestness in the alleviation of human suffering. His professional loyalty and civic progressiveness were significantly shown by his establishing, on the 1st of May, 1912, the Shiner Surgical Hospital, of which he is the owner and executive head and which proves a most valuable adjunct to the work which he and his confreres are doing in the local field of professional endeavor, the hospital, with excellent modern appointments and facilities, being designed for the reception of patients for both medical and surgical treatment and being open to the patrons of all reputable physicians.
Doctor Gray has been a resident of Texas since he was a lad of thirteen years and here he is well upholding the dignity and usefulness of a profession in which his honored father had likewise achieved marked success and precedence. He was born near Cado Gap, Montgomery County, Arkansas, on the 7th of March, 1871, and in 1884 he accompanied his parents on their removal from that state to Texas. His father, Dr. George W. Gray, was a native of Virginia and was a scion of a family that was founded in the historic Old Dominion in the colonial era of our national history. As a boy he accompanied his parents on their removal to Corinth, Mississippi, where he was reared to adult age and acquired a good common-school education. In preparation for his chosen profession he entered a medical school in the City of Atlanta, Georgia, and after his graduation he came to the West and established his residence in Montgomery County, Arkansas, where he engaged in the practice of his profession, to which he there gave his attention for many years. In 1884 he came with his family to Texas, and he here became one of the prominent and highly esteemed physicians engaged in practice in Comanche and Eastland counties. He passed the gracious evening of his long and useful life at Gorman, Comanche County, where he died in 1909, when nearly eighty-three years of age. He was a staunch adherent of the democratic party buy was a man of quiet reserve and had no predilection for the activities of politics or public office, preferring to devote himself without reservation to the work of the humane vocation for which he had fitted himself and in which it was his to give long years of self-abnegating and effective service. He was a Master Mason and was a consistent member of the Baptist Church. Earlier generations of the family were found principally identified with agricultural pursuits, as prosperous Southern planters, but several of his brothers went forth from Corinth, Mississippi, to become prominent and successful in professional and business life. In Montgomery County, Arkansas, Dr. George W. Gray wedding Miss Melissa Freeman, daughter of one of the pioneer physicians of that county, and she died when her youngest child, Doctor Gray of this review, was an infant. The older children are Joseph Gray, M. D., who is engaged in the practice of his profession at Comanche, Texas; Adaline, who is the wife of William Richland, their home being in the State of Oklahoma; Charles J., who is a representative member of the bar of the City of San Antonio; and Alice, who is the wife of William Hollyfield, of Comanche County. For his second wife Dr. George W. Gray wedded Rebecca Gore, who, with several children, survives him and who still resides at Gorman, Comanche County.
The earlier educational discipline of Dr. James D. Gray was obtained in the public schools of his native state, and after the family removal to Texas he continued his studies in the schools of Comanche and Eastland counties. When about seventeen years of age he left the paternal roof and initiated his independent career. After a few months of employment as a farm hand in Comanche county he assumed a position as clerk in a dry-goods store at Gorman, that county, where he remained thus engaged about three years. He was then induced by his brother, Dr. Joseph Gray, to engage in the drug business in an independent way, though at the time he had no practical knowledge of this line of enterprise. While conducting a drug store at Gorman he not only became a practical pharmacist but also gave close study along lines that would aid in his preparation for the medical profession, to enter which his ambition prompted him. He finally entered the Marion Sims Medical College, in the City of St. Louis, Missouri, and while he was there a student his drug store was destroyed by fire. His staunch friends in the wholesale drug trade came to his rescue and enabled him to re-establish his drug business, his brother, Dr. Joseph Gray, kindly giving personal supervision to the store and business while he himself was completing his college course. From Marion Sims Medical College Dr. Gray finally withdrew and he entered Beaumont Medical College, in which institution, which is now the medical department of the University of St. Louis, he was graduated in 1901, duly receiving his well earned degree of Doctor of Medicine.
After his graduation Doctor Gray disposed of his drug store and engaged in the general practice of his profession at Lacasa, Stephens County, Texas, whence, a year later, he removed to Whitney Hill County, where he likewise practiced one year. He then, in 1897, removed to Lavaca County and established his residence at Moulton, where he continued in successful practice until his removal to Shiner, this county, in 1904. In this community he controls a large and representative practice, with high standing both as a physician and as a surgeon, and it has already been noted that he has amplified the scope of efficacy of his work by the establishing of the Shiner Surgical Hospital, to the supervision of which he gives the closest of personal attention and to which he has brought up to high standard.
Doctor Gray continued a close and appreciative student of the best in the standard and periodical literature of his profession and thus keeps in touch with the advances made in both medical and surgical science, this object being further conserved through his active affiliation with the Texas State Medical Society and the American Medical Association. He is a man of fine physical presence, is alert, vigorous and ambitions, broad in mental ken, mature in judgement and thus splendidly qualified by natural predilections as well as excellent technical preparation for the exacting and responsible duties of his humane profession, which he has considered worthy of his undivided fealty and attention, so that he has had neither desire or time to enter the arena of practical politics or to serve in public office. He was one of the promoters of the cotton-compress industry established at Shiner, and is a stockholder in the company organized for the carrying forward of the enterprise.
On the 31st of December, 1899, at Moulton, Lavaca County, was solemnized the marriage of Doctor Gray to Miss Alma Kubitz, whose father, Doctor Kubitz, was a native of Texas, a graduate of the medical department of Tulane university, in the City of New Orleans, after which he was engaged in the practice of his profession in Fayette County until his untimely death, when he was still a young man. Doctor and Mrs. Gray have two children—Maurine and Willis.—pp. 1286-1288.
HARRIS TAYLOR GREEN. In Fayette County on the rural route No. 5 between Schulenburg and Weimar is the fine country home and ranch of Harris Taylor Green, who has spent the greater part of sixty years in this one locality. His success as a farmer is above the ordinary, and while his life has been a part of this section of developing Texas for so many years his name also suggests some interesting family relationships and influences that have been steadily exerted for better things morally and socially.
There is authentic information concerning only three generations of the family, but tradition is that Mr. Green's ancestors took an active part in the Revolutionary war. The grandfather, Jesse Green, Sr., was during the first half of the nineteenth century a planter and slaveholder in Alabama and later in Choctaw County, Mississippi. He married Jemimah Lee, daughter of Richard Lee of Virginia. Both of them died in Mississippi, and their estate was divided before any of their children came to Texas. The first of their children was Rev. Lee Green, who entered the Baptist ministry and was engaged in preaching over Fayette, Lavaca and Colorado counties until he was ninety years old. After the war he was also a merchant at Hallettsville, and his last years were spent in Yoakum. His wife was Lucretia Middleton, and both are buried in the cemetery at Hallettsville. The children of Rev. Lee Green were: Jesse, who was a lawyer and died at Hallettsville; John M., district judge of the Victoria District; Judge Pleasant, county judge of Lavaca County; Holly, of San Antonio; Hicks, who died as a young man; Sarah, deceased wife of John M. Hatchett; Jemimah, who married Mr. Shoemaker and is deceased; Demarius, who died unmarried; Lula, deceased wife of Mr. Rogers. The second child of Jesse Green Sr. was Jesse Jr., whose career is taken up in a following paragraph; Harris, the third, died in Leon County leaving a family; Ananias spent his last years at Seven Rivers, New Mexico, and left a family; Betsy married Mr. McAdams and spent her life in Leon County; Jemimah married Charles Quinn and died at Plantersville, Texas, leaving some children.
Jesse Green, Jr., was born in the vicinity of Selma, Alabama, in 1820, and grew up in that locality. About the time he reached his majority he moved to Choctaw County, Mississippi, and took possession of a new plantation purchased by his father. He was a man of good education for his time, and gave his active years to farming, with the aid of slaves, which he brought with him to Texas. He came from Mississippi to the Lone Star State in 1850, making the journey overland in the familiar fashion of the time, his wife and children riding in the old "carry-all,'' and that and other vehicles were drawn by mules and ox teams. They crossed the Mississippi at Rodney. The chief incidents of the trip that have been handed on to the present generations concerned the difficulties of bad roads, since the good road movement had not yet dawned. It is possible that the Rev. Lee Green preceded this caravan on his way to Texas. Jesse Green joined a little settlement at Black Jack Spring at the head of West Navidad in Fayette County, where he purchased land and lived with his family until 1854. In that year he paid $1,500 for about 1,100 acres of the James Sergeant league, where his son, Harris, now lives. His death occurred the year following, in 1855. However, he had taken an active part in the pioneer life of this section.. He was a justice of the peace; was church clerk of the Missionary Baptist Church at Black Jack Springs, having donated five acres of land for schoolhouse purposes and the Baptists holding their meetings in the school building. In the same locality he also built a gin operated by horsepower, probably the only one in a great expanse of country at that timey and evidences of this old landmark could be seen even in recent years.
Jesse Green married Mary Spencer. Her father, William Spencer, who married a Miss Lang, of Pennsylvania German stock, was a wealthy farmer and owner of many slaves in Choctaw County, Mississippi, where both he and his wife died. The Spencer children were: James, who was killed as a Confederate soldier; Mrs. Green; Dr. Henry, who practiced medicine at old Terryville in Dewitt County and at Independence, where he educated his children, and then located in Falls County, where he died; Mrs. Benjamin Moore, Mrs. Vance, Mrs. Berson, Marion and Albert, all of whom lived in Mississippi. The children of Jesse Green and wife were: William W., who died soon after the war as a result of the hardships of his life as a soldier; Jesse Clinton, who died at the age of twelve; Harris T.; James A., of Karnes County; and Sarah Jemimah, wife of George Williams, of Schulenburg. The mother of these children, who died April 1, 1874, having been left a widow subsequently married John S. Black, and her daughter by that union, Frances, married Lewis Porter. Mr. Black died in 1885.
Harris Taylor Green, whose ancestry has thus been traced, was born in Mississippi July 29, 1849, and was an infant member of the caravan whose journey has been described. The great Civil war was in progress during his teens, and while in school at old Lyons a company of youths was formed and drilled in the expectation that in time their services would be required by the South, but he made no real effort to get into the scenes of active hostilities. Most of his education was acquired in the old Baylor University when it was located at Independence while Dr. William Carey Grain was its chief executive. In 1869 he drove cattle over the old Chisholm trail to Abilene, Kansas, and invested the proceeds of that work in college tuition. He spent two years at Baylor, lacking eight months of graduation. He also did some teaching there, as assistant in the branches of grammar and arithmetic. When he left school he was in poor health, and anticipated that he might be in the early stages of pulmonary disease, but with the active outdoor life of the farm he quickly mended and has become physically stronger until today he is as robust as possible for his frame.
Farming has been his career and profession. His first home in Texas was a log house both at Black Jack Springs and on his present farm. Soon after his father's death his mother erected a plank house of cedar lumber which came from cedar brakes owned by the family on Buckner's Creek in Fayette County. An old log house with "stack" chimney stands on his farm, erected long before the war and still used for one of his tenants. His present residence was erected in the fall of 1873. Although the old homestead was divided among the heirs, Mr. Green has since purchased some of the interests and owns over 500 acres originally belonging to his father, and his total holdings aggregate 900 acres, partly in Fayette and partly in Colorado County. His revenues have come from cotton, corn and stock, and while he was a cattle feeder in former years, he has lately devoted much attention to mules. Mr. Green is a member of the Baptist Church. During the existence of the Weimar Institute he was at one time president of the board.
December 18, 1873, he married Miss Mary M. Black, a daughter of John S. Black, who as already mentioned married Mr. Green's mother. Mrs. Green, who was born December 6,1850, and died September 1,1883, had children as follows: Jesse T., who is a rural mail carrier at Weimar and by his marriage to Emma Frazier has William, John, Charles and Mary Emma; Milton A., who practiced law at [Yoakum] as partner of Judge John M. Green until his health broke, is now recovering his strength on a farm in Fayette County and by his marriage to Verna Burford has a son, Milton Burf ord.
After the death of his first wife Mr. Green married Miss Mary E. Morrow, a daughter of James and Mary V. (Armstrong) Morrow, Alabama people who came from Mississippi to Texas and were married here. Her mother is now Mrs. August Koltermann, whose parents were John and Sylvia (Land) Armstrong. Besides Mrs. Green the Morrow children were: Fannie, wife of William Black of Weimar; James of Mesa, Arizona; Martin, deceased;. Thomas, who died at Odessa, Texas; while of the Koltermann union there is a son, Frederick William, a farmer near Weimar.
The children of Mr. and Mrs. Green are: Sallie E., wife of H. A. Philips of Quanah, Texas; Fannie Y., wife of C. C. Harris, a druggist at Houston; Harris T., who graduated in dentistry in Chicago and is now in practice at Thorndale; James M., who is a graduate dentist from the same school, married Miss Ruth Rylander and lives at Port Lavaca; Lee M., a graduate of the Texas A. & M. College, is a farmer at home; Ruth, who graduated from the San Marcos Normal, is Mrs. Mack Walker of Houston; Pearl is a student in the Normal at San Marcos; and Jennie, who is a student in the Weimar High School.—pp. 1688 -1690.
JOHN G. GUENTHER, M.D.Success is the ultimate criterion of ability in the medical profession, and guaged [sic] by this standard Doctor Guenther is fully entitled to designation as one of the representative physicians and surgeons of Lavaca County, where he is engaged in active general practice in the thriving Town of Moulton. Aside from his well earned professional prestige he is further entitled to consideration in this publication by reason of being a native son of the Lone Star State and a representative of one of the sterling and honored families that was here founded more than forty years ago. He is known as a physicians of high attainments and is the dean of his profession in the Moulton community—a man of sturdy loyalty in all of the relations of life and one who commands unequivocal popular confidence and esteem.
Doctor Guenther was born at Schulenburg, Fayette County, Texas, on the 12th of May, 1872, and is a son of Franz and Magdalena (Seidenberger) Guenther, who still maintain their home at Schulenburg, where the father is engaged in the bottling of carbonated waters and is a citizen of prominence and influence.
Franz Guenther was born in the Town of Deutsch Jasnik, in the Province of Moravia, Austria, in which locality his ancestors settled more than a century ago, their emigration from their native Germany having been prompted by their desire to escape after the ravages of an epidemic or plague that was there raging at the time, the original home of the family having been in the Rhine country of Germany. In Austria representatives of the name in the various generations were found prominently identified with the agricultural and milling industries, and Joseph Guenther, grandfather of the doctor was long and prominently associated with what was perhaps the largest flour-milling enterprise in Austria, both he and his wife, who bore the maiden name of Magdalena Seidenberger, the same as that of the noble young woman who later became the wife of his youngest son, continued their residence in Moravia until the time of their death. Of their children, Franz, father of doctor Guenther of this review, is the youngest; Joseph was for many years a resident of the City of St. Louis, Missouri, and late in life he came with his family to Texas, where he continued to reside until his death; John came to this state in 1867 and for many years was a prominent citizen of Weimar, Colorado county, where his death occurred and where he left a family of several children; Henry died in Austria and has no posterity; Rosina became the wife of Franz Stanzel and they were numbered among the pioneer settlers of Schulenburg, Texas, where she died in 1914, at the venerable age of eighty-six years; Elizabeth, the wife of Franz Brossmann, died at Schulenburg, in 1913, at the age of seventy-six years.
Franz Guenther was reared and educated in his native land and in his youth followed the miller's trade, though he subsequently served a thorough apprenticeship to the carpenter's trade and became a skilled artisan. He became a successful bridge contractor in Austria and had the supervision of the construction of many important railway bridges in that empire. There was solemnized his marriage to Miss Magdalena Seidenberger, and upon their immigration to America they were accompanied by their two children—Prof. F. P., who is one of the prominent and honored figures in educational circles in Texas and who now holds the professorship of German and history in the Northwestern Texas State Normal School, at Canyon; and Louisa, who is the wife of Henry Jeterka, of Schulenburg, this state. Upon coming to Texas, in 1871, Franz Guenther established his residence at Schulenburg, where he and his wife have continued to maintain their home, and where all of their children were born except the two already mentioned. Concerning the American-born children the following brief record is entered: Dr. John G. is the immediate subject of this review; Ludmilla is the wife of Henry Friederich of Schulenburg, Miss Theresa is a trained nurse and holds a position in the hospital at Moulton; Anna is the wife of Joseph Winkler, of Lockhart, Caldwell County; Doctor Frank is engaged in the practice of medicine at Moulton; Tillie is a popular teacher in the Moulton High School; and Charles, who was the second in order of birth, was a representative member of the bar of Travis County at the time of his death, which occurred at Moulton, in 1914. Charles Guenther was a man of Distinctive intellectuality and fine professional ability, was a talented musician, and his wanderlust led him to travel extensively in all parts of the world prior to his engaging in the practice of law at Moulton. He was a bachelor.
Dr. John G. Guenther acquired his early education in the public schools of Schulenburg and his higher academic education was gained in the University of Texas. For one year he was engaged in teaching at Yorktown and a second year found him similarly employed at Moulton. In the medical department of the University of Texas, a department established in the City of Galveston, he was graduated as a member of the class of 1897, his reception of his degree of Doctor of Medicine having occurred on May 16th of that year. He forthwith established his residence and professional headquarters at Moulton and he has not only achieved unqualified success in the general practice of medicine and surgery but has also shown his humanitarian spirit and civic enterprise by establishing the Moulton Hospital, which was founded by him in 1913 and of which he has since continued the executive head. This institution, with excellent modern equipment and facilities, has proved of inestimable benefit and value to the local community and its advantages have been utilized by patients from a wide area of surrounding country. The doctor is actively identified with the American Medical Association, the Texas State Medical Society, and the Lavaca County Medical Society, which last mentioned organization he has effectively represented in the State Medical Society, besides which he has served as county censor of Lavaca county. He is one of the oldest members of the Moulton camp of the Woodmen of the World and also of the Hermann Sohns, which latter fraternal organization he has represented in the grand lodge of the state.
At Cuero, Dewitt county, on the 26th of December, 1900, was solemnized the marriage of Doctor Guenther to Miss Justina Kossbiel, a daughter of Charles and Helena (Moll) Kossbiel, who came to America from Cologne, Germany, and who became the parents of two sons and nine daughters. Doctor and Mrs. Guenther have three children—John C., Leo, and Marion.—pp. 1406 -1408.



Thanks to Debbie Hanson and Rebecca Herder for their help in getting these biographies online!